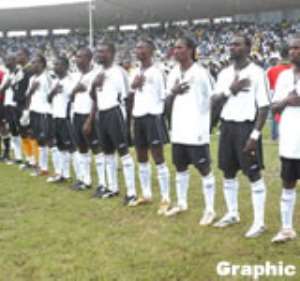 The senior national team, the Black Stars will continue their build up to the Germany 2006 World Cup finals with two friendly matches against Russian opponents next month.
The Ghana Football Association says it has almost completed arrangements with Russian club sides, FC Moscow and Dynamo Moscow for these matches to be played on May 8 and 11 before the deadline for the submission of final squad lists for the World Cup.
Black Stars coach, Ratomir Dujkovic, will use the games to assess the prospective players who will make the final squad he will present to FIFA on May 15.
He is thus expected to feature more foreign-based players for the two matches in Russia.
Ghana had originally planned to take advantage of a 12-day break in the German Bundesliga to play, Hannover, this month.
But the German club pulled out of the game, citing organizational problems.