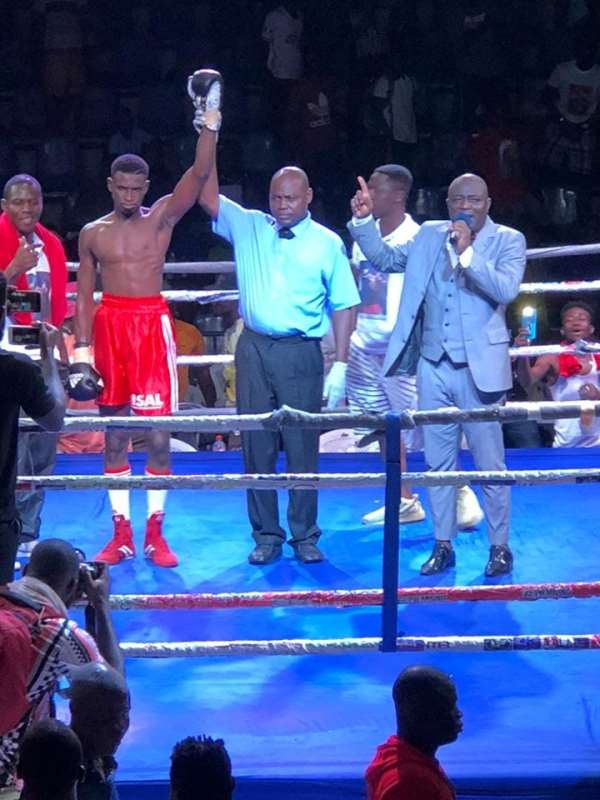 The Bukom Boxing Arena was the thrilling venue on Friday night for the second edition of the Bukom Fist of Fury which was well attended.
When MC Mohammed Amin Lamptey called interesting bouts to order, they thrilled the fans, and it was evident that Ghana Boxing still has hope in the youth who are coming to take over from the veteran boxers.
In the main fight of the night, WBO Global Super Bantamweight champion Wasiru Mohammed defeated John Amuzu in Round 4 via a Knock Out.
Mubarak Abu also won by unanimous decision after putting up a good fight in a hot action-packed 8 rounder.
Former Black Bombers captain, Manyo Plange once again gave a sell-out of real boxing artistry.
He commanded the fight clinically with landed punches, connected jabs and excellent defense.
Plange was a delight to be watched last night, as he kept the spectator clapping and cheering all out.
His opponent Sharif Kareem from Nigeria with an unbeaten record after 17 fights tested his first defeat in the hands of the skilful Jessie Manyo Plange who has maintained a clean sheet 21 -017kos
Humble and gentle looking Prince Oko Nartey lived up to the billing against Philip Kweku as he offered the fans in attendance the right dinner with a convincing round one knock out victory.
Fans favourite, Faisal Abubakar whose supporters dominated in the stands was also a delight to watch in his usual element of boxing technique.
He pummeled Nii Akrofi to submission to earn his fourth straight victory with Carl Lokko at his corner.
Nii Akrofi who lost all 6 previous fights could not match the enterprising tall Faisal who predicted a round 4 win.
But the fight ended prematurely with the Bronx boxing gym pugilist running away with a TKO victory.
The Bukom Fist of Fury League, the second edition was also great on an opening day as the amateur boxers gave a good account of themselves.
Present at the Arena to contribute to the show were expatriates from the British Council and members of the Ghana Sports Supporters who kept the atmosphere alive with jama songs.
Members of the sports media were also present in numbers to promote the event which is sponsored by ADB, GNPC, Goil, Ghana Gas and the Trust Sports Emporium Ltd.