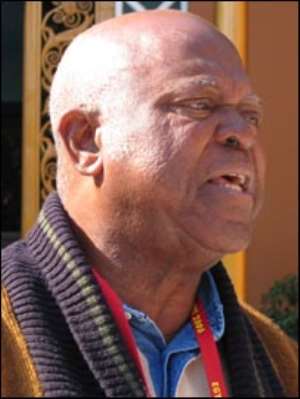 Accra, April 10, GNA - Mr Ben Koufie, a member of 'Team Ghana 2008' Committee and former Chairman of the Ghana Football Association (GFA) has said that for the nation to present a formidable and winsome team at the next Nations Cup in 2008, there was the need for the preparation of a locally dominated side to represent the nation at the competition. The former GFA Chairman's said his suggestion was based on the fact that foreign based players are mostly affected by the weather after a long spell in Europe.
The Team Ghana 2008 Committee is responsible for coming out with the measures aimed at developing strategies for the formation of a formidable and winsome team for the competition.
He made these observations during a brainstorming session organised by the Local Organising Committee (LOC) of CAN 2008. Though his observations attracted mixed reactions from the participants, Mr Koufie stood on his grounds and argued that a quick change in climatic conditions always has a toll on the performance of the foreign based players and this has been the bane of the nation for the past years.
"Let us ask ourselves why they perform better in the first half or in the first and second games at major competitions but fail to glitter at the latter stages".
"It is because of the weather, some of them join the team at least one week to the game and it is very difficult to get acclimatised in this situation".
"Many have questioned the commitment of players during these tournaments, but the issue is not about commitment, but playing under different weather conditions within a limited time". Mr Koufie said the boys are always ready to die for the nation but the weather plays a key role in their output, hence they are not able to give off their best.
He said a formidable squad made up of local players and a blend of a few foreign ones who are in good shape would be the best option for Ghana as the nation prepares to host the soccer fiesta in less than two years time.
Mr Koufie who cited Egypt as an example, said the success of the North African country was due to their decision to form the team around locally based players.
The former GFA Chairman suggested the Ghana Centre of Excellence at Prampram as the right venue for camping the selected players, but called for the upgrading of the place to make life comfortable for the players. He argued that with a consistent training programme and adequate international friendlies, the players will be well prepared for the task in 2008.
"We cannot afford to under-perform in 2008, because it will take a lot from the event".
Mr Koufie, whose tenure of office saw the introduction of the Five Year Development Plan initiated by the GFA, said preparations towards the tournament in 2008 must commence immediately after the 2006 World Cup campaign.