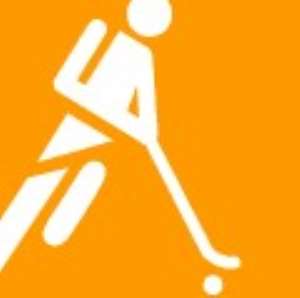 The National Hockey pitch will come alive again when the Greater Accra Association Areeba Hockey Gala pushes-off at 7:00 am on Saturday April 8 2006. The Gala which traditionally ushers in the new hockey season has always been characterized by drama and excitement, especially in relation to player movement and team tactics.
This year's competition is special for one main reason as it will feature umpires participating in an international hockey umpires' workshop being held in Accra.
Four senior teams, four female teams and seven male teams will vie for honours in 3 categories. In the senior's category, the bookmakers have tipped Seniors (Elite) runaway League champions Multistix to lift the trophy but have not ruled out NDK Financiers and rejuvenated Citizens to spring a surprise. Considering the pairing from the balloting, that is Multistix slugging it out with NDK Financiers and Citizens taking on old rivals Veterans, the championship match looks more like featuring Multistix and Citizens. In the women's category, Areeba League Champions Extinguishers of Fire Service look certain to continue their dominance of women's hockey in the country. The thrill will however be realized in the A-League category where all attention would be focused on Areeba League champions Marine Sticks of the Ghana Armed Forces. Marine seem to be off-form due to the inability to assemble in good because of national duties. Areeba league runners-up Golden Sticks of Ghana Commercial Bank have strategically placed themselves to make claim to the title, while Exchequers, CEPS and Trustees have a realistic chance of lifting the trophy.
The officials of Areeba will grace the all-day event with their presence and will take the opportunity to fraternize with the members of the sport they are assisting to develop.
The fixtures for the day are as follows:
Match No. Time Fixture
1 7:00 am Trustees versus CEPS
2 7:30 am Marine Sticks versus Exchequers
3 8:00 am Multistix versus NDK Financiers
4 8:30 am Citizens versus Veterans
5 9:00 am Reformers versus Golden Sticks
6 9:30 am Police versus Extinguishers (Ladies)
7 10:00 am Reformers versus CEPS (Ladies)
8 11:00 am Winner Match 1 versus Winner Match 2
9 11:30 am Winner Match 5 versus Police
10 12:00 Noon Winner Match 3 versus Winner Match 4 – Seniors' Final
11 1:00 pm Winner Match 6 versus Winner Match 7 – Ladies' Final
12 2:00 pm Winner Match 8 versus Winner Match 9 – Men's Final