Talent Hunt: 15-Year-Old Player Manyina Prosper Tipped For Global Stardom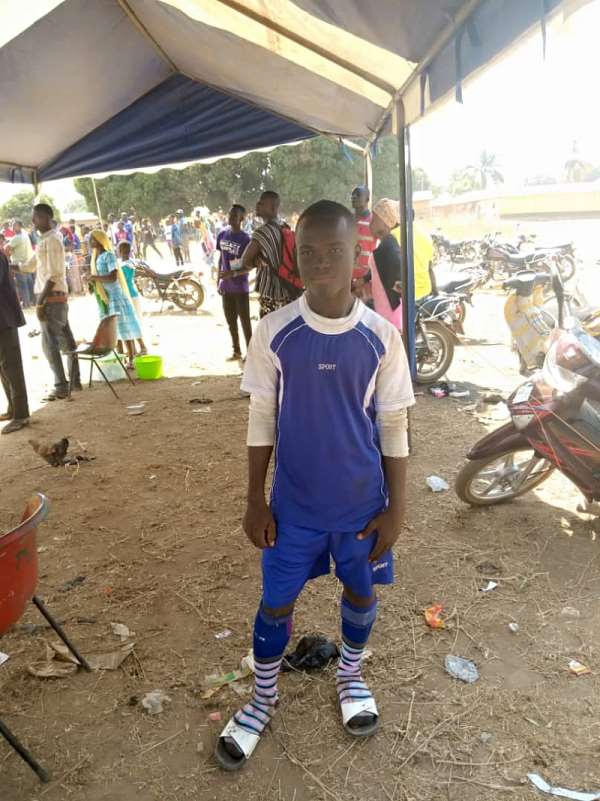 The evolutionary mood around football has exposed many youngsters to the game thanks to the prevalence of European games on the local television stations.
The continuous exposure, coupled with daily training and little guidance, has turned many lovers of the game into active footballers.
The latest discovery on the Ghanaian terrain must be little Manyina Prosper with a rare class on the ball at just 15 years. Yes, fifteen years with the brains of a 30-year-old footballer.
Spotted at the just ended Hon. Mathew Nyindam (Member of Parliament) for Kpandai Annual Gala in partnership with Ankasie, Prosper sent the hugely patronized soccer festival agog with ambidexterity, flair, charisma, and pace.
His total control of the game and commanding nature on the pitch belies his age as a 15-year chap. Blessed with a lower center of gravity, little Prosper only needs one thing to succeed on the rectangular pitch, exposure.
Already on the transfer list of multiple Ghanaian clubs and renowned football administrators in the country, he believes the 'village Messi' is the next gem to grace the game. The people of Kpandai believe they have seen their own version of a teen legend yet to be called the new 'Ghana Goat'.
Already multiple winners of the U-12 championship, the citizenry of Walewale affirmed the talent of Prosper when he took his Kpandai team to Walewale for the inter-district championships.
The most decorated and the best-behaved footballer went his way despite losing the final match.
The connesieurs and pundits of the game have already earmarked Prosper for stardom thanks to his first touch of the ball. Simply unplayable on his day for a 15 years old footballer with no technical guidance. Imagine Prosper in the hands of modern day managers?
Like many teen talents, the new discovery has been tipped for stardom but the question remains the same, who will guide this unrefined talent?
---442gh.com
Hassan Nankwe
Northern/Oti Regional CorrespondentPage: NankweHassan