Ghana Wheelchair MiniGolf Association Holds Maiden Awards Night At Ceasar's Court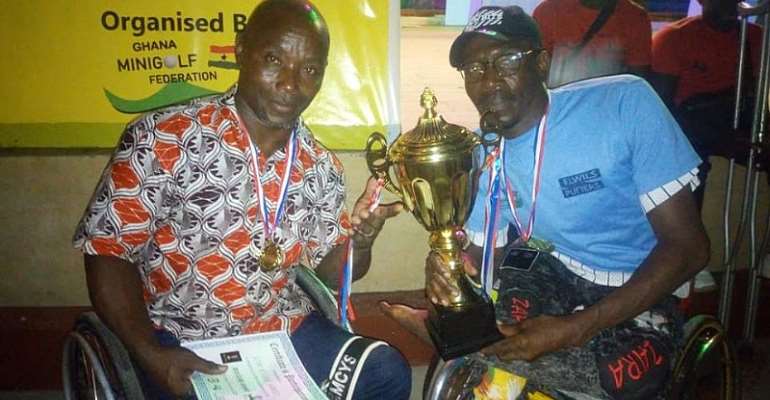 Wilson Lion Agbesi president of the Ghana Wheelchair Minigolf Association (GAWMA) has appealed to the Government, corporate Ghana, development partners, donor agencies, companies, organizations, Religious Bodies, philanthropist, Celebrities and the General public to come on board to support the Association's program of activities for the year 2020 with funding and logistical support to make the Association achieve its goals.
He also appealed to the Ghana MiniGold Federation (GMF) to facilitate the new league format of minigolf for its official approval by both Africa and World Minigolf Federation so that other countries in Africa and the world at large can start with the game next to the year 2020.
Speaking at the 2019 Ghana Minigolf Federation and Ghana wheelchair minigolf Association clubs league Awards Night on Saturday 15th December 2019, he hinted that on 27th of November 2019 the 1st Ghana National Wheelchair Minigolf Club league was officially launched, after the Association was officially outdoored in September 2019 during the 2019 Africa Minigolf Cup of Nations (Amcon 2019) here in Accra Ghana.
"The league which is the first-ever in the world has been successfully organised under the auspices of the Ghana Minigolf Federation which great support from its able hard-working President Mr Talal who doubles as the President of the Africa Minigolf Sports Federation and also an Executive Member of the World Minigolf Federation," he said.
According to Agbesi, the league was solely sponsored by Caesars Court and expressed his gratitude to them for attaching their brand to the newly vibrant wheelchair minigolf brand.
He commended the five clubs that participated in the four weeks period league, namely, Amazing Putters, Elwils Putters, Hope Putters, Raiders Putters, Victory Putters.
He also hailed the National Sports Authority and the Ghana Olympics Committee for the goodwill of support received from them throughout the period of the league.
Mr. Talal Fattal, president of the African and Ghana MiniGolt Federations said it is by divine intervention that Ghana Wheelchair MiniGolf is riding high, and congratulated the players and winners, Ewilis Putters Club.