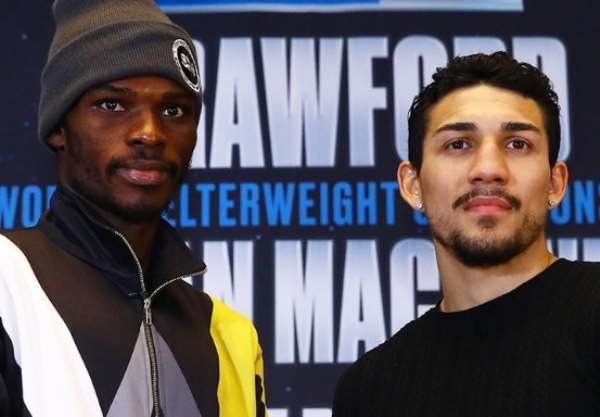 With December 14 at the Madison Square Garden only a few hours away Richard Commey's (29-2, 26KOs) focus is not just a win but also performance that will erode all the dismissiveness about his status and quality as a reigning champion.
Commey, who is going into this mandatory defence against Teofimo "El Brooklyn" Lopez (14-0, 11kos) has been disregarded so much to the extent that some bookmakers have given him a 1:2 disadvantage.
"I get encouraged heavily when people don't' give me the credit I deserve. It gives me the energy to perform and prove everyone wrong." Commey told the media after his open workout session during the week.

The IBF champion has a lot of inspiration to draw from some of his compatriots especially the legendary Azumah Nelson who also suffered some disregard when he fought Jeff Fenech in 1991. But all this boils down to what the two boxers have to offer the public in the co-main feature to Terrence Crawford versus Egidijus Kavaliauskas.
This title defence fight against Teofimo Lopez has seen the foreign media throw bigger focus on the contender rather than the champion. Trainer Lopez has actually enjoyed big ratings to a 2:1 extent by some bookmakers.
As Commey has not done much in terms of the pre-fight big talk, the expectation is that his punches on the day will end the discussion.
The Commey Angle
The Ghanaian has a power punch, takes the fight to his opponents, has big bout temperament and is able soak volume punches. This ability to keep stable on his feet during moments of intense pressure was brought to bear in the unsuccessful attempt at the IBF title against Robert Easter Jnr in 2016.
Commey was of the conviction that he was handed a raw deal on the scorecards, same as that against Russian Dennis Shafikov. This is an indication that Commey will prove a tough nut even when Lopez gets an upper hand.
The Ghanaian can get very lethal when he is successful with his two/ three punch combinations and will also typically keep his opponents at bay with his reach (a few cm in advantage in tomorrow's bout).
Against Raymundo Beltran for instance, Commey started off with constant jabbing with the left and would wrap off with a big stinging head shot from the right. This immediately unsettled Beltran and took him down with a bleeding nose.

Another strength which could come handy for the 32-year-old champion is his stamina and ability to stay on his feet even when sustaining a barrage of punches. To ensure this is further beefed up, his camp worked with celebrity fitness trainer, Dave Honig whose results are visible – a trim Commey, who wears mean look to indicate what he intends to deliver on the night.
Capping it all for the Ghanaian is the experience of seeing more rounds and scenarios, and a bigger knockout percentage some of which have been recorded away from his comfort zone.
His relatively vast ring experience and calm demeanour in reaction to the low ratings by some sections of the media exhibits his constant will to use self-motivation to get the results. Of course the Ghanaian also needs to watch the moments when he exposes his guard for penetration. Lopez is the kind of opponent who will swiftly move in to do damage.
The Lopez challenge
He is fast, creative and attacks well and when it's all done with his opponents, he does his trademark back flip to celebrate.
Lopez, throughout his professional career has mostly unsettled his opponents with his effective punching which is also accompanied with a fair amount of power.
This trait of accuracy and power is what makes him a different contender from all others. He strikes with hooks and jab in all angles and is likely to catch any opponent with an open guard unawares.
The orthodox boxer who is a Hondouran-born American will enjoy a bigger phychological boost better than any of his previous 14 bouts. The difference here is that he is getting the bigger rating ahead of the champion who is rather expected to enjoy the limelight on a regular day.

The 14-fight run has been characterized by big knockouts, in fact aside Diego Magdaleno and Victor Jones who lasted till the seventh and sixth rounds respectively, all his KO victims have lasted the fight round and below.
Lopez, who is in his early 20s has not hidden his intentions to go for the knockout as has been the case for almost 80% of his fights. But as to whether that is possible against a durable Commey, is a question that can be answered Saturday at the Garden.
The fact that he struggled a bit in his bout against Masayoshi Nakatami could be an indication that the bout could last longer than projected. Commey has a similar fight style and can be troublesome on the counter.
Commey's Quotes:
"Since I started my career, I have always been on the B side so it's not new that many are focusing on my opponent. That always gives me the motivation to do what I always do and event better"
"I don't go into fights looking for knockouts but I always stay focused and get the job done and get victory for Ghana. Let people say what they wanna say. Let them just wait for the real deal in the ring. When I step into the ring we will see the real deal"
"The only way I can go back to help my foundation and my people who want to be like me is to win. I am doing all this to help my people. I know Africa is behind me, Ghana is behind me and all those kids are behind me."
"Even if I win and it's not given to me, I am still Richard Commey and I will continue to do what I do and be who I am."
Lopez's Quotes
"We are here to stay and we will keep doing what we do"
"If anybody told me that I would be up for the world title, at this time I wouldn't have believed it. But hey, here we are it's a great blessing and we are grateful for it"
"I know Richard Commey is gonna come in strong I will go in strong but what I want is for the fans to get well entertained. Everyone will be tuned in because of the special reasons But it will be a short night."
"Everybody is talking about my hair for Saturday night but the hair won't make me win the fight. I will make me win the fight. I have been in camp for nine weeks and it has been great."
"I feel like a champ. Weight is not an issue. I have had the best time in camp and feel great."