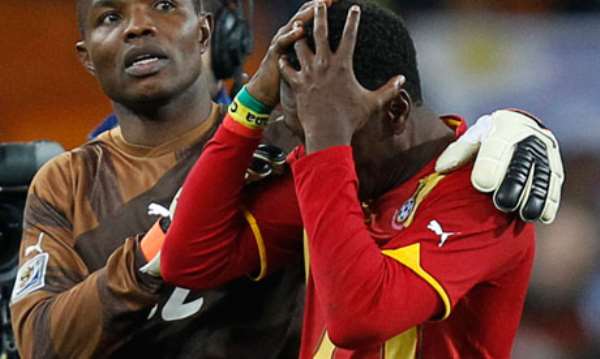 Asamoah Gyan has admitted that he is still being haunted by the crucial penalty miss in the 2010 World Cup in South Africa during Ghana's quarterfinal game against Uruguay.
The Black Stars general skipper shockingly missed that all-important kick that would have taken an African country to the semi-final of the World Cup for the first time in the competition's history after Luis Suarez had punched away Dominic Adiyiah's goal-bound header.
However, the 34-year-old who has scored 51 international goals in 109 appearances said he has still not forgotten the miss almost a decade since it happened because the picture of it keeps popping up each day.
"Every day. It haunts me every day. I will never forget this. It has become part of my life", he told India website Hindustantimes.com.
He said until the nation makes it to that level in the Mundial, that memory can never be erased because it was a great opportunity for the Black Stars to make history at that competition.
"Till Ghana qualifies for the semi-finals because we had a chance and I blazed away (the shot grazed the horizontal and flew into the Johannesburg night sky)," says Gyan.
Gyan said the situation had become so bad that even when he was watching football on TV and there was a penalty, that painful memory popped and believed it would continue to haunt him even after he has hanged his boots.
The Ghanaian arrowhead and ex-skipper said he now feels uncomfortable watching penalty on TV because as soon as there is penalty it reminds him of the 2010 debacle.
"Even when I stop playing, it will haunt me. Even when I am seeing football on TV and there is a penalty in a normal league game, it just pops into my mind.
"It is like, 'I don't want to see a penalty in football because it connects my mind to 2010'. What is keeping me going is that I am strong mentally."
"I would have done the same thing to save my country. He saved his. I was unlucky and he succeeded to go the next stage of the competition. It happened in a blink and you know, in a blink anything can happen. So, I don't blame him."