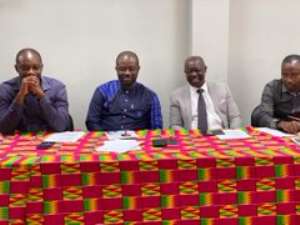 Ghana Football Association (GFA) president, Kurt Edwin Simeone Okraku has stressed that the Sports Writer's Association of Ghana (SWAG) has a key role to play to make his vision of 'Igniting Passion and Creating Wealth for All' in football possible.
The owner of Dreams FC was recently elected as the new head of the country's football governing body and has been given a four-year mandate by the association's new statutes to get the sports to where everyone will be delighted.
One week after he was sworn in, Kurt Okraku has held a meeting with SWAG over the weekend to share ideas on how the body can help in achieving his numerous plans for the development of football in the country.
In a Twitter post after the meaning, the new GFA boss says a strong relationship between his outlet and the media will be instrumental in the success of his administration.
"Had the opportunity to interact with the Sports Writers Association of Ghana at the Accra sports stadium on Saturday.
"SWAG is key & strategic towards the vision of Igniting Passion and Creating Wealth for All via a strong relationship between the FA and the media", the post read.
Kurt Okraku's work will intensify this month as the Normalization Committee set up by FIFA and the government of Ghana prepares to leave office.