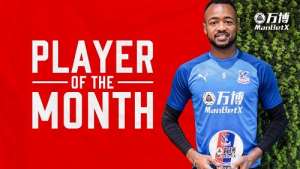 Ghana forward, Jordan Ayew has expressed gratitude to his Crystal Palace teammates after emerging as the team's best player for the month of October.
Jordan got 34 per cent of the total votes cast ahead of Gary Cahill who pooled 21 per cent of the votes with James McArthur getting 16 per cent of the votes to finish in that order.
This is the second time in three months that the Black Stars striker is winning the award and the player expressed his appreciation to his teammates for the support on the pitch and promised to continue to do more.
Ayew claimed the award following some successes on the pitch during the month under review when he scored the winner against West Ham and scored against Arsenal to help his side secure a point against the Gunners.
"It's a pleasure, obviously," the striker said. "I work hard and I have the support from the players, from the staff, from the football club and the fans. Everything's good.
"I'll just keep on working and never stop working. It gives me more hunger for more hard work and to get to where the club wants to get to. That is a positive thing and without the players, I wouldn't win this award so I have to thank everyone and thank the players especially.
"I just try to do my best for the team. If I can chip in a few goals it's a positive thing. But the important thing for me is for the team to win and that is what I try to do every time I'm on the pitch, to make sure we win games.
"That is my mentality. I don't like to lose so I want to win every game and whether I score or whether my partner scores, I am very happy," Ayew noted.