Manny Pacquiao Gives Back: 'We Cannot Bring Our Riches To Our Grave'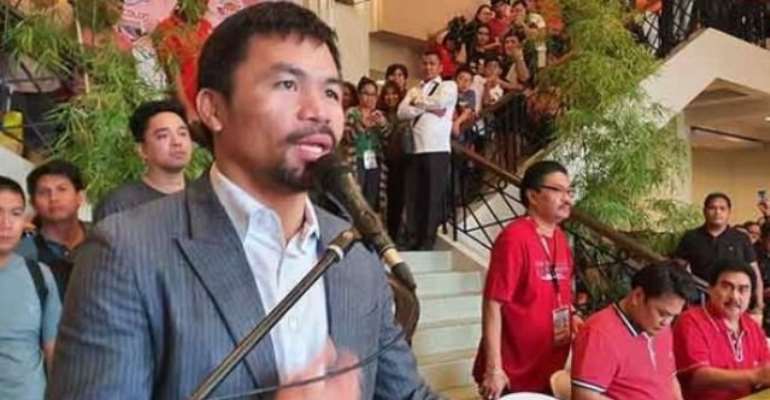 Manny Pacquiao, a poor man who became very rich because of his achievements in the field of professional boxing, finds joy in giving back to the poor.
He said that despite the fact that he has already experienced all the riches and luxuries in life, he can still relate to the plight of the impoverished population.
The senator who is an adopted son of Bacolod came here Thursday, October 17, to visit his fellow Bacolodnons and his kumpare Bacolod City Mayor Evelio Leonardia and also Bacolod Representative Greg Gasataya who partnered with him in the staging of the Maharlika Pilipinas Basketball League.
Pacquiao echoed that true happiness does not come from financial riches but only from the Lord.
He wants to inspire the rich to start sharing their fortune to the underprivileged.
"We can never bring our riches to our grave. If you love God, it is not only in words but it should be a love in action," he said.
Pacquiao said that he loves to share his blessings to the poor of Bacolod as Bacolod is closest to his heart because of Mayor Bing and his family who sincerely support the Team Pacquiao.
"All the blessings that I enjoyed, I shared it with the poor. I trained my family to be generous to the poor. Deep in my heart, since the beginning of my fortune, I have the heart to share my blessings with the poor. I have lived miserably where I experienced sleeping in the street and had only water to drink because there is no food to eat. And that is what inspires me to give and share," he said.
Thousands of Bacolodnons queued and crowded the people's champ for his generosity.
Pacquiao, "this is the kind of crowd that he loves to be with. I will never get tired of sharing my blessings."