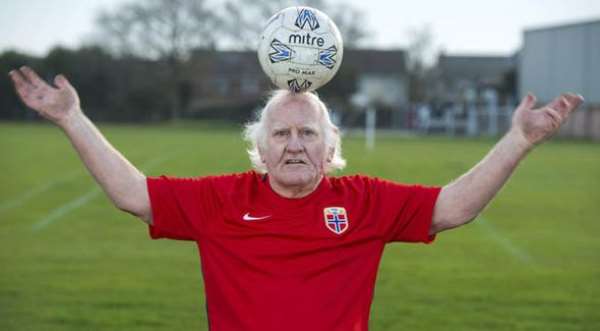 Dickie Borthwick, world's older footballer is in search of a new club at the age of 83.
Known as Britain's oldest footballer, the Weymouth-based legend wants to continue his amateur career despite being in his mid-80s.
The lifelong Manchester United fan is currently on the lookout for a new club and told SPORTbible in an exclusive interview this week: "I'm very available. I miss playing football terribly."
The retired engineer, a (vastly) experienced striker-turned-winger, is currently without a club after the previous veteran teams he represented folded.
Dickie describes himself as "fit as a fiddle", "solid as a rock", and insists he can still play an entire match.
"I feel like I am capable of playing 90 minutes," Dickie, who celebrates his 84th birthday next month, said. "I will give 100%. I'm solid as a rock, well built, fearless and have a true love for the game."
Despite his advancing years, Dickie also still practices in his back garden, which is just lovely.
"There is a brick wall down there," he continued. "I often practice my shooting by hammering the ball against it to keep my legs mobile.
Dickie claims to have made an astonishing 1,600 appearances over the course of a 72-year career, scoring over 400 goals, and previously played for Ross County and Invergordon Town FC in the Scottish highlands before moving to Dorset, where he has played for 11 non-league clubs.
But what's his secret? How is he still playing football at the age of 83?
"I don't eat any rubbish. I try to eat good, healthy food. You don't want to go out looking like a beer barrel do you?" the man is affectionately known as "The Tank" added. He also enjoys a couple of pints at the weekend.
"I'm not a heavy drinker but that's my routine," he said.

Remarkably. Dickie is also a cancer survivor, having recovered from prostate cancer while in his 70s.
"My love for the game certainly was driving me on to beat it and I have done that," he added.