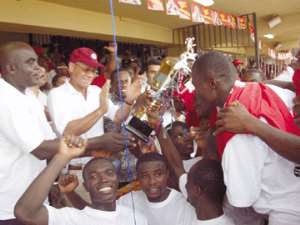 Accra, Mar 3, GNA - Participating Clubs for the Fifth Edition of the Ghana League Clubs Association (GHALCA) annual Top Four competition last Friday crossed swords during the launching of the competition with each side vowing to win the competition.
For Kumasi Asante Kotoko, their "Operation Win All Trophies" will be their motto as they seek to win the event for the second time in its five year history.
Speaking at the launching of the tournament, Mr Kwame Amoa Bosompem, a Representative of Kotoko said his Club is determined to win all trophies that come their way this year and the Top Four trophy will not be an exception.
He said Kotoko is ever ready to face any form of opposition from the participating clubs because they have prepared adequately for it. The Kotoko Representative said his side sees the competition as an offshoot of the GT Premier League and winning it will confirm their status as the real League champions.
Mr Amoa Bosompem, however, called for level playing grounds for all the participants adding that, "if this is in place I don't see any one beating us in the competition". He gave the assurance that the Club will this time round not abandon the competition as it did last year since they are totally committed to its success.
Mr Farouk Al Wahab, a Management Member of Accra Hearts Oak duelled on the nature of recruitment exercise undertaken by the Club this year, describing it as one of the best in all times. "With the wealth of materials at our disposal this season, I don't see any one stopping us in our bid to annex the trophy". He said as the maiden winners of the competition, the Club is determined to appease its fans with the trophy after it had been starved of it for so long and called on other participants to get themselves ready for fireworks.
On his part, Mr Oduro Sarfo, Accra Representative of Kumasi-based King Faisal said though they have lost some key players as a result of transfers, no Club should take them for granted. "We have the eye to recruit quality players and have already recruited equally good players to replace the lost ones". He said any Club that underrates them does so at their own peril because his side is aiming at another Top Four honour. New entrants, Berekum Arsenals are relishing similar feats attained by Heart of Lions and King Faisal who took the competition by surprise by winning it out of the jaws of Hearts and Kotoko. Mr Kwame Ntow-Fiako, Accra Representative of Arsenals promised the participating clubs of a unique brand of soccer from Arsenals. 03 Mar. 06