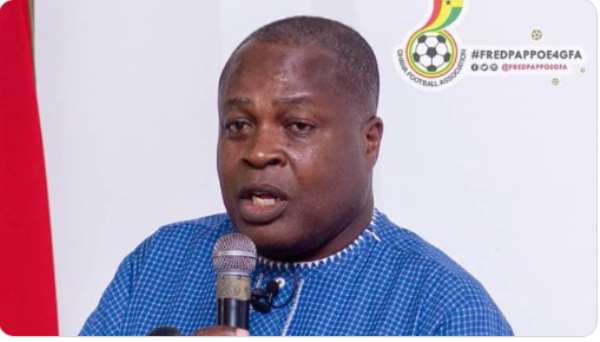 Former Western Regional Football Association (RFA) Chairman, Kojo Yankah has thrown his weight behind Ghana Football Association (GFA) Presidential candidate Fred Pappoe adding that he is the best option to steer Ghana football.
Mr. Pappoe, a board member for Accra Great Olympic is one of 6 aspirants who have been given the clear to contest for the vacant seat at the football governing body following the resignation of Kwesi Nyantakyi last year.
Having witnessed the manifesto launch of the former Ghana FA vice president in Accra on Thursday, Kojo Yankah has stressed that he is now convinced that the formal VEEP is the right man to lead the new regime of the FA.
"When he was talking, he hammered on transparency and I'm a transparent person and I cherish people who preach about transparency and these are the two key things he talked about that I was happy with – transparency and working together with the Executive council. He will never take decisions alone.
"If he wins Fred Pappoe, he is the best candidate for the FA. But first, I counted him out of the race until I listened to him today and realise that Fred Pappoe is not out.
"I always say that these three key people George Afriyie, Kurt Okraku and Osei Palmer one of them will win but listening to Fred Pappoe, I think he is not out of the competition", Mr. Yankah noted.
The GFA presidential elections have been slated for October 25, 2019.