Essien to lead Ghana past mexico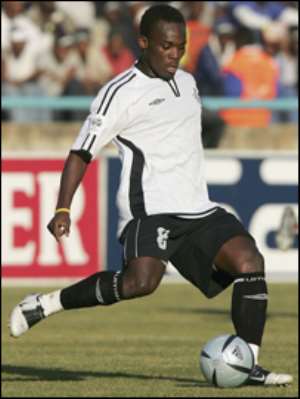 FRISCO, Texas (AP) -- Ghana might experience a few nervous moments before it takes on favored Mexico in a prep match for the World Cup.
But midfielder Michael Essien is no stranger to pressure on the international stage. He plays for Chelsea of the English Premier League, one of the most visible teams in the world.
"It helps," Essien said. "Chelsea is one of the biggest clubs. When you play at that level, you have more confidence. We're looking forward to the World Cup." Essien was recalled for Wednesday's friendly against Mexico after he missed Ghana's disappointing performance in the African Cup of Nations due to an ankle injury.
"I'm fit. I'm good. I've felt good for four or five matches," Essien said after his team's open workout Tuesday night in the Dallas suburbs. "There's no pressure on us. This is our first time in the World Cup and we're going to do our best."
Minus the dynamic Essien, Ghana -- 48th in FIFA rankin! gs -- lost two opening-round matches in the Cup of Nations.
More was expected after the Black Stars earned their first World Cup berth with a 6-1-3 record in Group 2 qualifying.
Coach Ratomir Dujkovic has been under fire from the Ghana Football Association for the team's poor showing in the Cup of Nations, and chairman Kwesi Nyantakyi has said there are no guarantees that Dujkovic will be coaching the Black Stars in the World Cup.
"I don't care about that," Dujkovic said. "This is always part of our job. You always have the luggage ready to go."
The Serbian coach's future could hinge on Ghana's performance against Mexico. "We came to win," Dujkovic said. "That is our target. We know Mexico is very strong, but we're here to beat them."
Essien became the most expensive player in African soccer history when he made a $43 million move to Chelsea this season after leading Lyon to two consecutive French titles.
Essien sustained the ankle! injury in the Premiership against West Ham on Jan. 2, and Dujkovic is pleased to have his best player back.
"He's very important for us, of course," Dujkovic said. "He's great, but he's only one player. We need strong play from everyone."
Ghana opens Group E World Cup play against Italy on June 12 in Hanover, Germany. The Black Stars' third match of the tournament is against the U.S. on June 22 in Nuremberg.
Teams must set their World Cup rosters in May, so players from both sides should be focused as they try to clinch roster spots. Mexico, sixth in FIFA rankings, will be the crowd favorite Wednesday night, backed by a large contingent of Dallas-area fans.
The Mexican team bus was greeted by about 100 supporters before a closed practice Tuesday morning.
Players had gathered in Mexico City over the weekend after leaving their teams in Europe and Mexico to make the trip to Texas for the friendly against Ghana. The Mexican team won't ! have Antonio Naelson, out for a month after knee surgery. Guillermo Franco is doubtful for Wednesday night with a quad injury. Mexico's World Cup Group D opener against Iran is June 11 in Nuremberg.