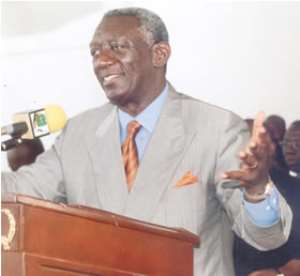 The President, Mr J. A. Kufuor, has asked the public to disabuse their minds of the impression that the government is weak.
He said the government was fully aware of the quantum of power at its disposal but it wanted to exercise such power responsibly to serve the needs of the people rather than use the authority to suppress the people.
Receiving a delegation of chiefs from the Techiman Traditional Council, headed by its President, Oseadeeyo Akumfi Ameyaw IV, at the Castle, Osu, yesterday, the President said an oppressed people could not be used for any meaningful development.
The delegation, which was led by Nana Kwadwo Seinti, the Brong Ahafo Regional Minister, was at the Castle to express the deepest appreciation of the chiefs and people of Techiman to the President and his vice, Alhaji Aliu Mahama, as well as the government, for attending the funeral of the late Techimanhene, Osabarima Odotobibi Takyia Ameyaw II, who passed away on September 21, 2003.
The group also expressed appreciation to the government for sending a high-powered delegation, led by the Vice- President, to attend the installation of Oseadeeyo Akumfi Ameyaw, the current Techimanhene, on March 11, 2004. President Kufuor said the government could exercise its power to the fullest if it wanted to do so but was circumspect in its actions because it wanted to create an environment of freedom where people could realise their potential to the fullest. He said the government had achieved a lot in the areas of education, health and the road sector. He mentioned, for example, that the government had built as many as 4,000 school blocks to improve facilities in basic schools countrywide.
Additionally, new facilities had been provided for senior secondary schools, universities and other tertiary institutions.
In the area of health, he said, the National Health Insurance Scheme (NHIS) had been instituted to replace the "cash- and-carry" system.
In the road sector, he said construction works on the Accra- Kumasi, Accra-Aflao, Accra-Cape Coast, Kumasi-Techiman roads and a host of others were progressing steadily.
The President advised the Techimanhene to offer good leadership and serve his people with dedication and selfless devotion.
Oseadeeyo Akumfi Ameyaw expressed his appreciation to the government for its support to the people of Techiman during the funeral of the late chief and the installation of the new one.
He commended the President for submitting himself to the African Peer Review Mechanism (APRM) and said "it was another great achievement".
The Omanhene took the opportunity to plead with the government to help build a new police station at Techiman and said the traditional council had already provided land and cement blocks for such a project.