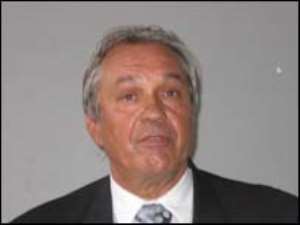 Highly placed information reaching myghanafootball.com indicates that the Head Coach of the Blac! k Stars, Ratomir Dujkovic is set for an emergency move to Qatar for another Coaching stint.
Dujkovic, who had talks with officials of the Middle East country during the Nations Cup finals in Egypt, might be named as the Manager of either the national team of Qatar or a yet to be named club.
The Serbian, who turned down a previous offer from a club in Argentina last month, is yet to receive the full amount of the bonus package promised him by the GFA after qualifying Ghana for the World Cup finals.
Myghanafootball.com is reliably informed that Doya was prepared to handle the Black Stars during the World Cup finals and resign afterwards but was forced to change his mind after the team's performance in Egypt.
It can be confirmed that he had prepared his resignation letter, ready to go when Kwasi Nyantakyi stated at a press conference that the Association has decided to maintain him.
A source has told this website that high ranking government officials, including the Deputy Minister of Education and Sports, are pressurising the GFA to do away with the Coach.
A win against Mexico on March 1st is seen as one that will attempt to turn the current situation around even though it cannot guarantee the continued existence of the former Rwanda Coach as the Manager of the national team.