GFA Elections: Kurt Okraku First To Launch Manifesto With Widespread Reform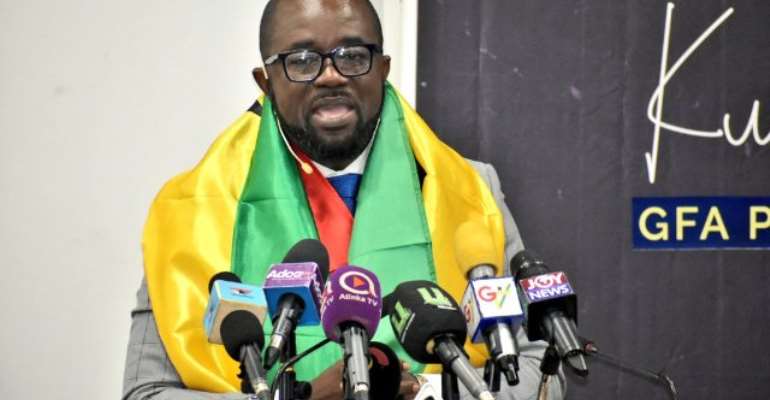 Dreams FC owner Kurt Okraku has unveiled his manifesto in his bid to become the new president of the Ghana Football Association.
Mr Okraku is one of seven individuals seeking to lead the association for the next four years. The document is premised on four key areas or principles: transparency, accountability and annual Audit; gender and equity, good corporate governance; professionalism, innovation and investment.
His manifesto launch, done at the Ghana Exim Auditorium in Accra, was attended by one of his opponents, George Afriyie.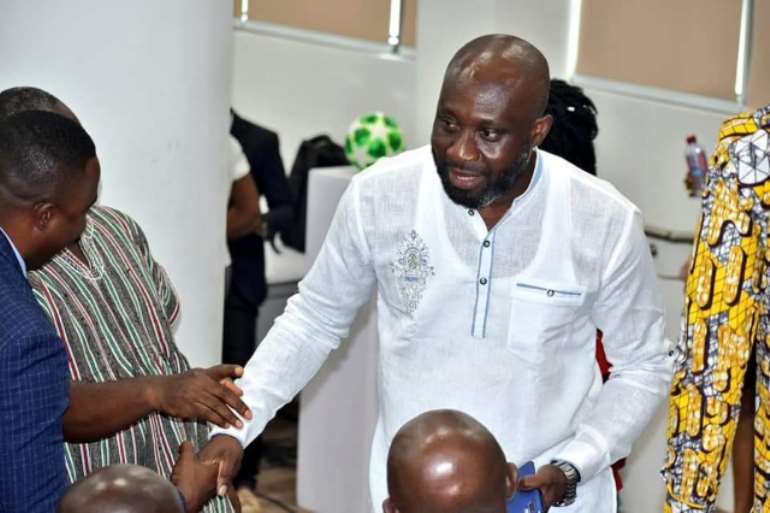 Highlights of Okraku's manifesto:
According to Mr Okraku, the bedrock of his vision to become the leader of the local football governing body was transparency, accountability and annual audit.
"For me, transparency can play a huge part in ensuring financial discipline, managing risk, reducing and eliminating opportunities for malfeasance and the perception of corruption of association," Mr Okraku said.
He added that his "media background gives me this assurance – that making information available reduces rumours and misrepresentation."
The former Executive Committee member said his team has a revenue creation model and innovative tangibles which will lead to the setting up of Central, Medical, Club Support and Special World Cup Benefit funds.
The Central Fund will support activities of juvenile/colts football and women's football.
The Medical Fund will cater for serious injuries to players. Injuries such as bone, cartilage and ligaments shall not be solely left to the responsibility of the clubs, he stated in manifesto.
The Club Support Fund will be established specifically to support clubs in the payment of attractive wages to players in order to minimize the spate of player exodus while enhancing the value.
Premier League clubs, Division One League clubs, Ghana League Clubs Association, Professional Footballers Association, Coaches Association, Referees Association, Women's Football and Juvenile/Colts Football will be the beneficiaries of the Special World Cup Benefit Fund.
Mr Okraku also revealed that his ultimate vision is to make the Ghana Premier League autonomous with the GFA retaining a special interest in the elite league. Progressively, he will ensure the same with the Division One League.
For women's football, Mr Okraku said he will be looking critically at areas of infrastructure and logistical support for clubs in the topmost division of the women's game. Also, the capacities of clubs will be progressively enhanced towards the ultimate goal of playing a truly national league targeted primarily at increasing revenue streams for the women's game.
Mr Okraku promised a revival of colts football which has been the backbone of Ghana's football talent factory for many years.
On referees, Mr Okraku said he will ensure that Ghanaian officials protect the integrity of the game by obeying fully all the provisions of the regulations on the Organization of Refereeing in Fifa Member Associations.
He will also introduce a 'Catch Them Young' referee policy that will identify nurture and train youngsters interested in referring to officiate juvenile matches withing the localities.
On coaches, Mr Okraku said his administration will introduce a special track coaching system to encourage former players to become coaches, adding that each year they will invest in refresher courses for Ghanaian coaches to be led by world-class coaches in the country.
The election will take place on October 25.