Healthy Rivalry As Two GFA Presidential Hopefuls Hug And Dance Together At Ghana Exim Bank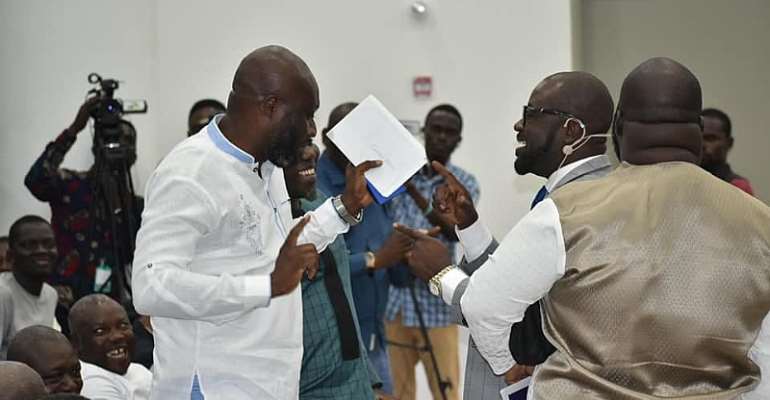 The plus Ghana Exim Bank auditorium on Tuesday, September 24, 2019, was the venue for the launch of the 'Game Changer' Manifesto by Mr Kurt E. S. Okraku, former colts footballer, a journalist, marketer, sports administrator and manager.
The venue was class for the event and every seat was occupied as media men and football fans and officials gathered to listen to the man of the day, and see what was in the booklet.
Though the lady in charge of the media, Abi was looking at faces and sharing the manifesto and could not see me, as I was standing in front of her, the best thing was to observe the actions and write what I saw.
Kurt Okraku delivered an enticing message, with promises, but what caught my attention most was the love and solidarity shown by everybody at the event.
As the aspiring GFA president walked in grand style with a Shatta Wale song, he shook hands with officials and invited guests, then he engaged George Afriyie, another presidential hopeful in a little dance, in fact, I was glad about that.
Because after the elections, everybody would be needed to support the winner, and ideals, as well as manpower, would be needed to push Ghana Football forward.
The reaction of George Afriyie when Kurt E. S. Okraku called on all the aspirants to join the 'Game Changer' team was completely wonderful.
And that is what Ghanaian football fans and officials wish to see now and the future.
The whole issue is about love and fair play.
Yours Truly wishes all the seven presidential aspirants all the best. God is the one who chooses leaders and Ghana Football will get a marvellous leader come October 25, 2019.