All Set For 2019 Ghandour WISA Omy TV Awards On Saturday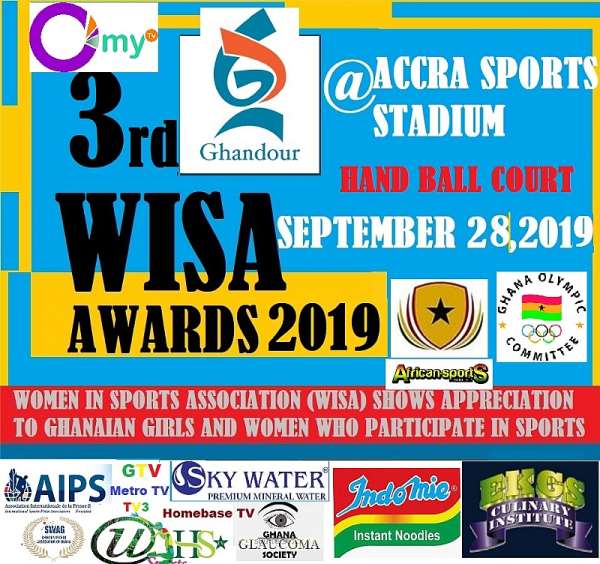 The third Women In Sports Association (WISA) Awards comes off at the handball court of the Accra Sports Stadium on Saturday, September 28, 2019.
According to Madam Gloria Commodore, all is set for the main programme after a successful launch, and she thanked Ghandour Cosmetics and Omy TV for supporting the event.
27 personalities who have excelled, including media people and six exciting teams, would be honoured.
She said WISA is five years old and the anniversary would be celebrated with a cake from EKGS, one of the best cake makers in Ghana.
She also commended Indomie and Sky Mineral water for coming on board to encourage women and girls who engage in sports.
According to Madam Commodore who is affectionately called 'Mama G', there would be eye screening on the day by the Glaucoma Society of Ghana, and urge all who would be at the Awards ceremony to take advantage of their presence to check their eyes.
The executive director of WISA thanked all who graced the launch, especially the Ghana Olympic Committee (GOC) President Ben Nunoo Mensah, SWAG president Kwabena Yeboah, Mrs Joyce Mahama president of WOSPAG, Mr. J. Ali the marketing manager of Ghandour Cosmetics and the Die Hard Supporters Union who entertained the guests.
She noted that it has not been easy running round finding for support to motivate and honour the female stars.
She appealed to women organisations to support WISA as the future is always bright for Ghana Sports because there are talents who can shine to become world champions.
Meanwhile, HSTV has declared their support for WISA activities and agreed to partner the association by media publicity and promotions.