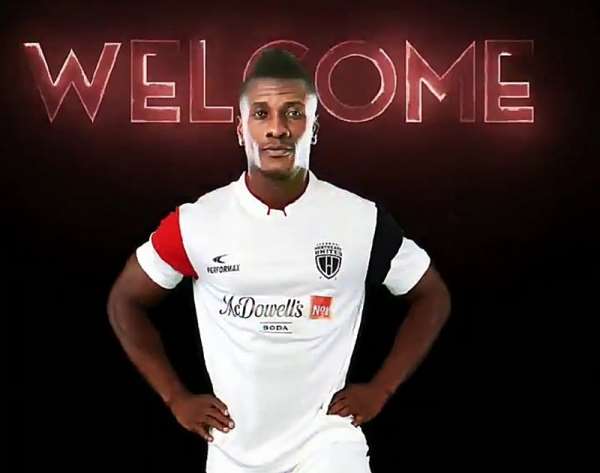 Fans of Indian club, North East United have expressed their excitement over the signing of Black Stars General Skipper, Asamoah Gyan.
The team announced the signing of the 33-year-old attacker on Thursday and immediately the fans took to social media to express their joy about the good news.
Highlander Brigade, supporters club for North East United twitted that "BOW DOWN, THE BABY JET IS ARRIVING! The Ghanaian legend, @ASAMOAH_GYAN3 is here to conquer. It's an absolute honour to welcome the former Black Stars captain to our home club @NEUtdFC. Welcome to North-East legend. #WelcomeGyan #NEUFC.
Another group, indifoot twitted "Yes Yes Yes!!! Asamoah Gyan is landing in India. What a big big coup by @NEUtdFC. How excited are you to see Gyan tear it up in the Hero ISL, NorthEast supporters?"
Michael Islary, a PHD research fellow said in his tweet "This is great news for football aficionados of the entire @NEUtdFC family. Welcome home @ASAMOAH_GYAN3
and set the ball rolling. I only hope that the management doesn't sell him next year. Imagine, if #ogebeche and #gyan were to lead your attacking line?"
Suravy G. could not believe the news describing it as amazing and thanking the club for making the season already great for the fans.
"I am shell shocked. Wow, this is amazing. Thank you Neufc for this. You have already made this season great for us and now we cannot wait to cheer out loud for you in the stands just like forever. And Asamoah, welcome to our Highlander family".
However, some fans were not excited by the signing of the Ghanaian attacker as one of the fans described Gyan as being out of form due to the few goals he had scored in the last two years.
Oozma twitted that "His stats doesn't look impressive. He has scored only 5 goals in the last 2 years. Looks like player is out of form due to his age. but still welcome to highlanders"