GOC President Praises Graphic Communications Group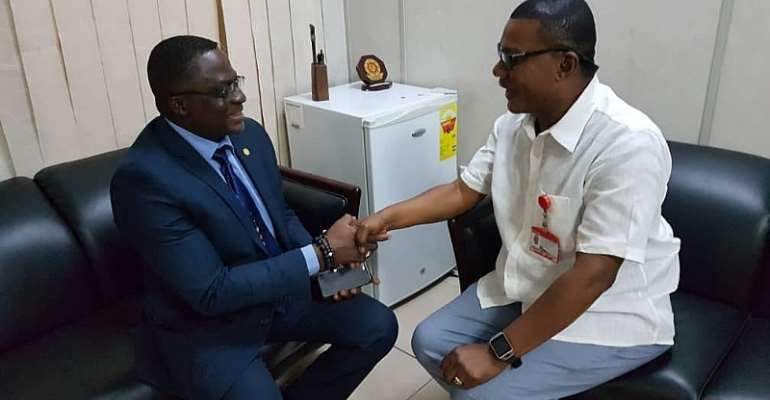 The President of the Ghana Olympic Committee (GOC), Mr Ben Nunoo Mensah commended the Graphic Communications Group for using its mediums to promote sports in Ghana.
He praised the Graphic Sports, Daily Graphic and their online portal for their good reportage on Sports in Ghana and edged others to follow duly after paying a Courtesy call on the newly appointed Editor of Daily Graphic, Kobby Asmah.
The GOC president said for sports to make big gains, they need the support of a vibrant media like Graphic which had been there for long, and improving.
He urged the media to report the truth and accurate news to woo investors to invest in sports.
According to the GOC president, negative reports affect sports development and promotion, because they scare investors from coming out in there numbers to sponsor sports disciplines.
Kobby Asmah, who is an old student of St. Augustine's College thanked Ben Nunoo Mensah, an APSUNIAN who is also the president of the Ghana Weightlifting Federation (GWF) for his visit and the good work he has been doing to inspire athletes, especially weightlifters who won Ghana's first medal at the 2019 African Games in Morocco.
Mr Asmah promised that his company would always stick to its tenats of reporting issues which were truthful and accurate as a way of enticing investors into Ghana Sports.