Athletes rebel over allowances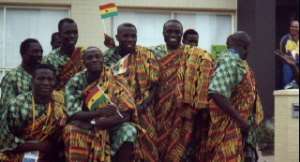 Accra, Feb. 22, GNA - Some "rebel" athletes, who although did qualify to run in the finals of the 4 by 100 meters event boycotted the race on grounds that they had been treated unfairly by officials of the Ghana Athletics Association (GAA).
The athletes were agitating against a 40,000-cedis allowance granted for each of them during the three-day period in the Togolese capital Lome for the National Athletics championship.
They described the treatment not only as an insult to their intelligence but as a de-motivation to the development to athletics in the country.
The peeved athletes mostly from the Ghana University Sports Association (GUNSA) begun the move at about mid-day on Wednesday when they broke the news to the GNA Sports of their intended action. They said they had sacrificed by forgoing lectures on campus for the trials only to be "insulted".
Mr Emmanuel Oteng Aboagye, Secretary General of the GAA, however, told the GNA Sports that they were working under constrained budget "and it's the best we could do under the circumstance".
"That is why we are giving each winner 100, 000 cedis, 70,000 cedis for silver and 50,000 cedis for bronze medallists. Those who need more money must strive to win their events," he said.
Mr Aboagye said the initial number of 80 athletes budgeted for was increase to 137 days before the championship due to late registrations. "So under the circumstances, we are compelled to cut down on a lot of things to satisfy every body," he told the GNA Sports.
The Ministry of Education and Sports approved a budget of 120 million cedis towards the event including feeding, accommodation and allowances.
The athletes were moved to Lome for the trials because of the renovation works at the Ohene Djan and Baba Yara Sports Stadiums in Accra and Kumasi.
The two-day championship meant to select athletes for the All African Games in Mauritius in August and other future competitions ended on Wednesday.