Muntari & Others To Miss Friendly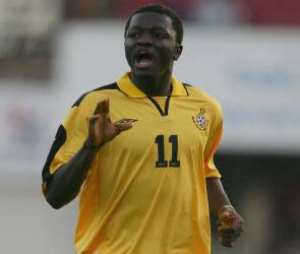 Three key players of the Ghana Black Stars namely Sule Muntari, Isaac Boakye and goalkeeper Sammy Adjei may miss the Stars friendly with Mexico scheduled for March1 in American city of Dallas.
A source at the Ghana Football Association told Space FM that they are yet to hear from Sammy Adjei and Isaac Boakye whether they can make it or not ,whilst Sule Muntari could also miss the match due to difficulties in acquiring travelling visa.
In a related development the newly elected vice president of Ghana Football Association who also doubles as chairman of the Stars' Management Committee told Space FM they are doing everything possible to enable the Black Stars shine in Germany when the world cup commences in Germany in June.
He said the stars will start camping on May17 after the Mexico friendly on March1.Citing reasons for the timing, Mr. Pappoe hinted that the World Football Governing body, FIFA, has directed that all leagues should end by May15. So there is no way you can effectively do any serious camping before the May15.
According to Mr Pappoe the team will play two or three more friendly matches when they start camp in May before the World Cup. He also said the FA also intends to strengthen the technical team, the playing body as well as the Black Stars management committee.
When asked if the FA was still pursuing the case involving Laryea Kingston, Mr. Pappoe said "We are still pursuing the case but I must admit it is a very difficult case because the Senegalese player involved was also suspended for four matches and it is not easy to overturn decisions of officials especially referees but that notwithstanding,we are still pursuing the case" he ended.