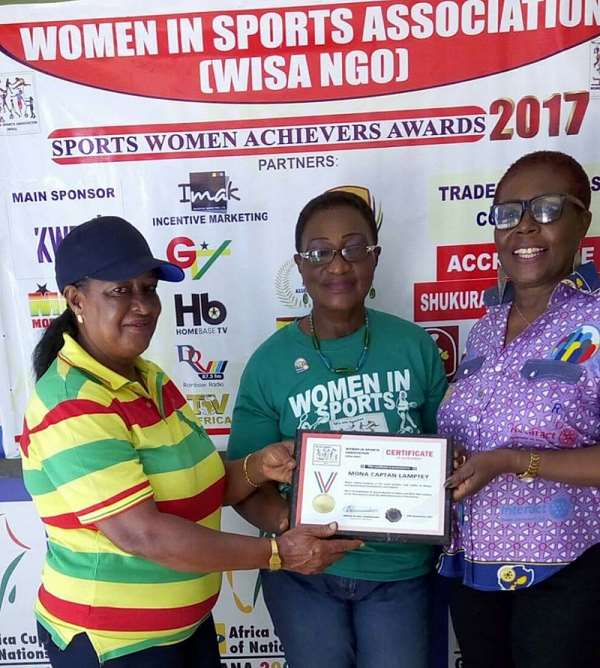 The launch of the 2019 edition of the Women In Sports Association (WISA) Achievers Awards comes on at the Media Center of the Accra Sports Stadium on Wednesday, September 11, 2019.
Madam Gloria Commodore, Executive Director of WISA said all is set for the event as she looks up to the attendance of some winners and surprises.
She expressed that it is not easy looking for sponsorship for the project to be sustained and appealed to companies who are interested in female participation in sports to come to the aid of WISA.
The WISA Awards recognizes and reward female sports personalities and this year marks the third season in the series which would be supported by OMY TV, a digital television station dedicated to the promotions and development of sports in Ghana and Africa in collaboration with the Ministry of Youth & Sports, Ghana Olympic Committee (GOC), National Sports Authority (NSA) and Sports Writers Association of Ghana (SWAG).
Miss Joyce Aku Mensah, CEO of OMY TV said the objective of WISA Awards is to motivate and encourage female participation in sports.
Over 30 sportswomen and teams would be mentioned and rewarded on Saturday, September 28 at the Multi-Purpose Court at the Accra Sports Stadium.
WISA is an NGO with most executive members practicing in the media like, President RoseMary Gaisei formerly of GBC, Vice President Nana Ekua Amankwah of TV3, Mavis Amanor of Asempa FM aka Fire Lady, Rosaline Amoh of Graphic Communications, Helga Gokah of GBC, USA based Naa Darkua Dodoo, Eunice Serwaa of the Ghana Fire Service, Matilda Dzimedo, a Freelance Journalist and others.
The 3rd WISA Awards is sponsored by Ghandour Cosmetics, Sky Mineral Water and several media partners.
Special guest of honour will be Madam Abi Ijasanmi, a Ghana-based Nigerian lawyer who was born and bred in Britain. She is Director of Africa with Diamond Air international, London and a keen sports enthusiast.
Emmanuel Olla Williams, the GOC Youth Coordinator is also going to show up, likewise Angela Asante, the only accredited journalist from Ghana at the 2019 FIFA Women's Women Cup in France.
This year's programme would be graced with an eye screening exercise by the Glaucoma Society and entertainment by the Achievers Club and the Die Hard Sports Supporters Union led by Apirigu Chakapama as well as aerobics to be lead by one of the nation's charismatic female instructors.