Ghana U-23 Captain Yaw Yeboah Confirm Team's Readiness To Beat Algeria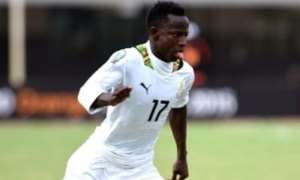 Captain for the Ghana u-23 team, Yaw Yeboah has noted that the team is ready to face Algeria for the first leg of the final qualifying round to the 2019 U-23 Cup of Nations (CAN) tournament.
The CD Numancia attacker is currently on loan at Celta Vigo B and joined the invited players for the upcoming assignment just three days ago.
With several concerns raised that all foreign players will not have enough time to prepare for the crucial match against Algeria later today, Yaw Yeboah has shared that he is confident they will be able to cope.
Speaking in an interview with the media, the Black Meteors forward shared, "We came as a group and we have done what we are supposed to do. The coaches are impressed and we the boys we are also working really hard".
"So for me I think the team, the players, and the coaches we see ourselves to be ready for this game".
He further said, "It is better we came two days because we were playing games in our clubs and we can't just come without playing the game. We got two days, some got three days and that for me I think that's okay"
"We will get used to the pitch and the weather as well. And for this is the best for us. It is better than nothing".
The match between Ghana and Algeria will be played at the Accra Sports Stadium at 15:30 GMT.