Who Rules Bukom - Tug of War 2019?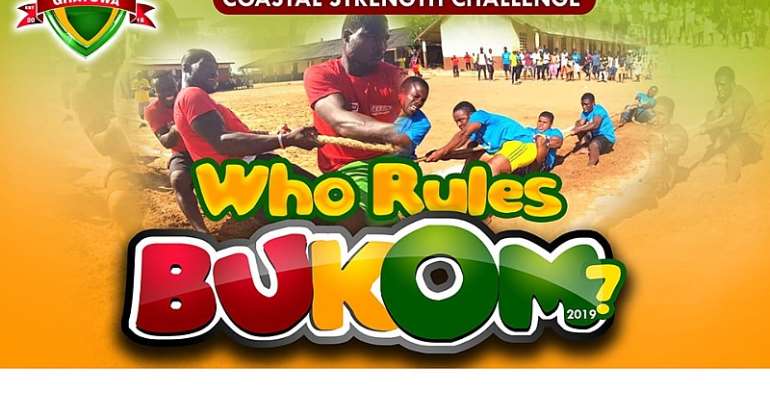 The Bukom Square in Accra will be the boiling point of the capital on Saturday, October 19, 2019, when the 'Coastal Strength Challenge' takes place.
"It is going to be a matter of power, tactics and techniques to win the cash prize plus giant trophy as well as the bragging rights," said Emmanuel Olla Williams of Dreamland Sports Plus and One On One Foundation, the current best sports and entertainment events organisers in Ghana.
He explained that 16 teams from the coastal communities in Accra will compete in the Tug of War to climax the 2019 Ga Adangbe Homowo festivities.
He named some of the communities to be represented as Ga Mashie, Chorkor, La, Osu, Teshie, Nungua, Korle Gonno, James Town, Dansoman and Bukom, the hosts.
According to Olla Williams, who is also the Youth Coordinator of the Ghana Olympic Committee (GOC), Tug of War was once an Olympic sport and they are trying to bring it back to create entertainment, unity and peaceful living among the Ga Adangbe people. He hinted that some popular musicians and entertainers are going to grace the day.
Olla Williams who has been organizing the popular Schools Sanitation & Sports Programme among various Senior High Schools all over the nation hinted that the sanitation education must also hit the communities, hence the Ampe, Football and Tug of War competitions.
He expressed that Ghanaians are talented in different sports and as Ghana prepares for the African Games in 2023, there must be room to encourage more sports activities.
The President of the Ghana Tug of War Association (GHATOWA) urged the government and the district assemblies to get involved and support people who have the skill and talent for sports such as tug of war, gymnastics, athletics, boxing, table tennis, judo, karate-do, taekwondo, kickboxing, handball, volleyball, basketball, swimming, wrestling and weightlifting.
He commended the athletes who won medals at the 12th African Games in Morocco and hoped that Ghana is going to stage a better Games in 2023 where Ghana is also going to be among the top 5 medal winners.
The 'Who Rules Bukom Challenge 2019' is supported by the Accra Metropolitan Assembly (AMA), National Sports Authority (NSA) the Ghana Olympic Committee (GOC) and African Sports Media Network.
Other partners are GTV Sports, Metro TV, Daily Guide, Graphic Communications Group, Ghanaian Times, Ultimate Sport on HSIV, Modern Ghana, GNA and TV Africa