Oto Addo Excited Aouts Call-Up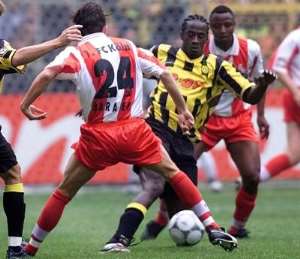 German-born Ghanaian international Otto Addo has expressed immense delight at being recalled into the Black Stars set up by Head Coach Ratomir Dujkovic. Ahead of the international friendly against Mexico in Dallas on the 1st of March, Stars' Coach Dujkovic has invited as many as seven players, who did not feature during the Nations Cup, to prove their worth ahead of the World Cup finals in Germany.
The FC Mainz midfielder, who shot into prominence for Ghana during the African Cup of Nations in 2000, co-hosted by Ghana and Nigeria, told Citi FM that he is surprised it has happened so fast and is confident he will make a good impact ahead of the World Cup finals.
The former Borussia Dortmund midfielder insists he did not feel left out when his name was absent from the Nations Cup list since he knew his chance will come.
'I didn't think it will be this fast, but I'm glad I will get a chance against Mexico and then hopefully get to play in the World Cup finals in Germany," he intimated.
Born and raised in Hamburg, he learnt his trade with a local non-league team, Hummelsbuttel, from the age of eight until third division side VfL Hamburg invited him for a trial at 17.