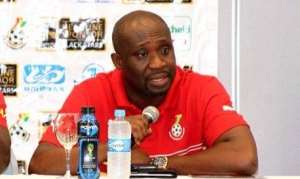 Former Vice President of the Ghana Football Association, Mr. George Afriyie is pushing for management of various national teams to charge coaches to justify the reasons why they hand call-ups to certain players when there is an assignment.
His stands come on the back of the constant failure of various national teams when they go to tournaments either on the African continent or at any other global platform.
Speaking on Happy FM earlier today, George Afriyie has accused some journalist of taking monies from people to act as hype men on their media platforms to compel coaches to include the players in question in their squad.
He insists that such practices must stop because teams need to present deserving players at tournament instead of players who will fail to deliver on match days.
"The things that we see in our football today, we shouldn't pretend people would just want to give money to certain journalists to hype players so they get called up to the national team; meanwhile they cannot perform. These things must stop", the Ghana Football Association (GFA) presidential hopeful said.
He added, "Everybody must understand that Tamale City FC and Ebusua Dwarfs players can also play for the national team. Can't you see the recent call-up?".
"People are just working for their selfish interest, not for the interest of the country or the football in this country. If we did same, by this time we would be billionaires"
"Call ups to the national teams is a complete joke because previously if coaches invite players, management subject the list to scrutiny and you have to justify why you called a certain player and not any other player".