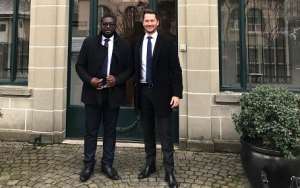 The Court of Arbitration for Sports (CAS) have upheld an appeal filed by Division One League (DOL) club, Phar Rangers against the Ghana Football Association to remain as a DOL club in the coming season.
Subsequently, the Ghana Football Association have been slapped with a fine of CHF 6000 to be paid to Phar Rangers as the cost incurred by the DOL club during the arbitration proceedings aside the total cost of arbitration to be determined by CAS later.
In a 13-page ruling presided over by H. Pat Barriscale, the court also dismissed all motions and prayers for relief and directed the Ghana Football Association not to demote Phar Rangers.
Delivering the judgment by the three-member panel, the court said "In the game between Phar Rangers and Okwawu United of July 16, 2017, Phar Rangers is declared the forfeit winner by 3-0.
"Phar Rangers, therefore, remained in the GFA Division One League, Zone 3 at the end of the season 2017/2018 and shall start playing in the same GFA Division One league in the next football season", the ruling said.
The fact of the case as submitted by the DOL club was that it lost a DOL game against Okwawu United on July 16, 2017, which put them on the 12th position of the Zone 3 league log at the end of the season and a position above the relegation zone.
However, Okyeman Planners, one of the relegated teams in the zone, lodged a protest against Okwawu United for not paying various fines imposed on some of their players. The Disciplinary Committee (DC) upheld their protest and awarded them the maximum points.
Effectively, that decision took Phar Rangers to 13th position on the log sending them to relegation but Rangers protested against the decision and demanded that Okwawu United forfeited points from all matches played when they owed fines and not just their game against Okyeman Planners.
That protest was dismissed by the DC on the grounds that it lacked the jurisdiction and the Appeals Committee subsequently also dismissed the protest forcing Phar Rangers to seek justice from the CAS.