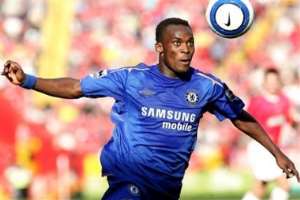 ... Muntari to play against Juventus London, Feb. 6, 2006 (MTNfootball) -- Ghana midfielder Michael Essien is set to return to action today when Chelsea play Liverpool in the English Premiership.
The 23-year-old has been out since January 2 with the ankle injury he sustained at rivals West Ham, which ruled him out of the MTN Africa Cup of Nations.
But Chelsea have badly missed the Ghanaian midfielder's powerhouse presence and after a full week of intensive training he is set to return to action at Stamford Bridge.
"The injury is now fully healed and I will start for my club in our match this afternoon, God willing," Essien told MTNfootball.com.
Essien is disappointed at his inability to play for his country at the MTN African Cup of Nations in Egypt .
He was part of the original squad but subsequently ruled out with that injury two weeks before the start of the tournament.
"It was huge disappointment for me to have missed the tournament because it is an opportunity to serve the people of my country and also showcase the talents on the continent of Africa to the world," Essien said.
The Black Stars failed to progress to the quarter-finals of the Nations Cup after winning only one match in Group D.
They lost 1-0 to Nigeria in their opening game, but beat Senegal in the second, before surprisingly succumbing to Zimbabwe in their must-win final match.
But Essien said the Black Stars will put up a good showing at the World Cup in Germany in June: "We lost three key players at the Nations Cup but surely by the World Cup God willing the Black Stars will be injury-free and back to full strength to sell the good image of African football".