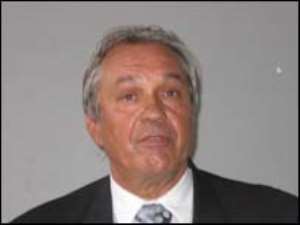 ... in addition to Venezuelan Jose & Silas Tetteh Black Stars coach, Ratomir Dujkovic, has called for the recruitment of three more Ghanaian coaches to help in the team's preparation for the 2006 World Cup in Germany.
This, according to him, was to ensure adequate preparation for the Stars towards the World Cup.
In an interview with the Graphic Sports, Dujkovic, a.k.a. Doya, said the magnitude of the task ahead demanded more hands to enable the Stars to live up to the challenege.
He said he had, therefore, asked the Ghana Football Association (GFA) to recommend three experienced local coaches who would be given specific tasks during the team's preparations.
"We want two experienced coaches from Ghana and I have asked the GFA to recommend some honest and experienced local coaches to help us in this job," he revealed.
According to him, he was going to use the two coaches as scouts to spy on matches involving teams in Ghana's group made up of Italy, Czech Republic and the USA.
"Maybe we will need another good Ghanaian assistant coach because we will be having 30 players in camp," he added and explained that with three assistants, each one could take care of 10 players while the goalkeepers trainers, handled the three goalkeepers.
Doya revealed further that Sellas Tetteh is currently his first assistant, with Venezuelan Ali Kanyas Jose who he recommended to the FA recently as the second assistant.
Former international, Edward Ansah, who Dujkovic described as an excellent trainer is in charge of the goalkeepers.