Laryea Kingston to miss world cup?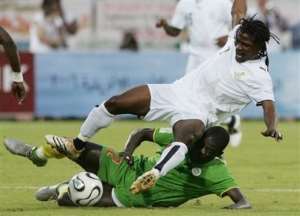 Ghana midfielder Laryea Kingston's dream of playing at the World Cup finals appears to have been shattered.
His four-match ban, resulting from his expulsion in their Group C African Cup of Nations match against Senegal, could see him missing Ghana's three group games against Italy, the Czech Republic and the USA.
A spokesman for Fifa, football's governing body, told BBC Sport that while they do not comment on individual cases, suspensions not completed at a continental tournament will be served according to Article 39(2F) of Fifa's disciplinary code.
The rule states that: "Match suspensions in relation to the expulsion of a player outside of a competition or not served during the competition for which they were intended are carried over as follows:
"Confederation competitions for competitive teams: carried over to the to the representative team's subsequent official match in a competition organised by Fifa."
It is this rule that may have informed the decision of the Ghana Football Association to appeal to the Confederation of African Football to mitigate Kingston's record ban, so he can appear at the finals.
Kingston began serving the four-match suspension during the Black Stars final group game against Zimbabwe, which they lost 2-1.
The midfielder, who was forced to watch Tuesday's game from the stands, said Ghana's Nations Cup exit was a bitter pill to swallow.
"I feel very bad about it because most people back home will say the problem is from me. If I had been in the team, things could have been different," Kingston told BBC Sport.
"I'm very disappointed about the situation because my aim is to let people in Africa and the world know me. It's very unfortunate that I had problems in this tournament," he lamented.
"This was the first time I was not playing with my colleagues and I felt I had let the team down," he intimated.
Like most Ghanaian fans at the Ismailia Stadium on Tuesday, the player admitted the Black Stars played poorly against the Zimbabweans.
"I don't know what was wrong with the team. But we did not have six key players on the field and it affected the way we played."
Meanwhile, the player joins his new club Lokomotiv Moscow at their training camp in Spain on Thursday.
The Russian club are preparing for their Uefa cup tie with Sevilla on 15 February.