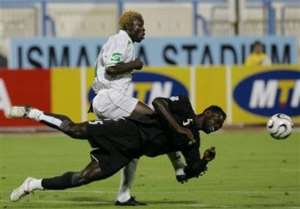 Accra, Feb. 1, GNA - The playing body of the Black Stars are blaming the technical handlers for their dismal performance at this year's Cup of Nations in Egypt, saying they (technical men) lack the imagination to improvise in the absence of some key players.
A GNA Sports source close to the team said on Wednesday that the players took a swipe particularly at the local coaches attached to the team for their lack of appreciation of the versatile role of some players who can fit into one or several roles in crucial times.
Their worry, poured out during a five-hour post-mortem in Egypt after losing to group D minnows, Zimbabwe 1-2 on Tuesday was that since the local coaches knew them better, they could have suggested to the expatriate helmsman Ratomir Dujkovic other positions that they could fit into in the absence of their injured colleagues.
The Black Stars won a single match against Senegal and lost to West Africa neighbour Nigeria and Zimbabwe.
It was their worse performance after the 1984 tournament in Cote D'Ivoire and Burkina Faso 1998.
The players were unanimous in their view that wrong substitutions, the insistence of the use of colleagues who were not delivering, the general uninspiring technical direction and lack of communication between the players and their handlers, played a major role in their demise.
The team bemoaned their uninspiring showing particularly against Zimbabwe, saying it was a big disappointment to the people and government of Ghana after the massive financial support they had received especially from government.
"The government has done its part, unfortunately we have failed to fulfil our side of the contract", a player was said to have commented. Apparently shattered by the poor results, the playing body, the management of the Ghana Football Association and officials of the Ministry of Education and Sports sat through the night till 3 am this morning discussing the match.