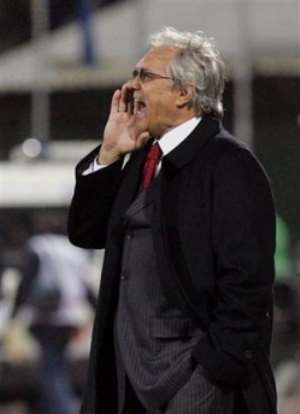 Ghana coach Ratomir Dujkovic is incensed at the criticisms from the fans of the national team following the Black Stars' exit from the Nations Cup and is demanding respect.
Dujkovic has come under attack from the locals with his choice of selection.
But the Serbian coach insists that this was the best squad we could assemble for the tournament and remains upbeat about Ghana's world cup chances.
"I'm not worried. You know we coaches always have our luggage ready to go. I have to see to what happens there (Ghana)."
PREPARING FOR THE WORSE
Dujkovic however says he is prepared for the backlash after the team's first round exit.
"Yes, of course, I always prepare for that but without me, they (Ghana) didn't qualify for the world cup.
"They (Ghana) must know that they (Ghana) have to respect," the under fire coach demanded.
"And this is a different competition and they (Ghana) contracted me to qualify for the world cup and I did that. So this is something different – this competition or friendly matches."
GHANA STAY
The Serbian coach believes he must be allowed to continue with work as Black Stars coach ahead of Ghana's debut at the world cup.
"Of course, I have my contract," Dujkovic said.
Ghana played without some key players at the African Cup of Nations.
Chelsea's Michael Essien, Sulley Ali Muntari of Udinese and Modena's Asamoah Gyan were all ruled out by injuries days to the competition.
Ghana became the third World Cup qualifier eliminated in the 16-nation tournament, following Angola and Togo.