Appiah: Struggling - Kingston: OUT!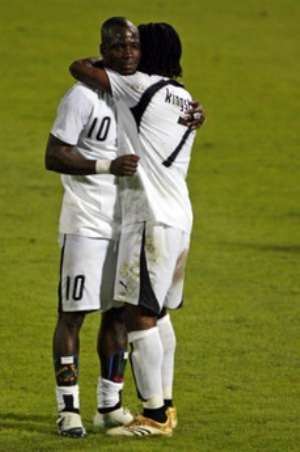 Ghana captain Stephen Appiah is struggling with a foot injury
Ghana will be without Laryea Kingston - and possibly Stephen Appiah, two of their most influential players, for their final Group D game with Zimbabwe at the African Cup of Nations on Tuesday.
Midfield workhorse Kingston was on Saturday slapped with a tournament-ending four-match ban following his red card in last Friday's 1-0 win over Senegal.
Kingston has also been hit with a US$1,000 fine after an off-the-ball altercation with Habib Beye, who has also been given a four-game ban by Caf's disciplinary committee.
To compound Ghana's misery, captain Appiah has a badly swollen right foot which is receiving round-the-clock treatment.
If he fails to recover, the quadruple African champions could face the Warriors without their main source of inspiration.
Appiah's injury is no doubt coach Ratomir Dujkovic's biggest headache given that nobody typifies the spirit of the Black Stars more than the Turkey-based skipper.
Ghana's captain remains the key player with his ability to steady the midfield, hold the ball and direct the attack and without him, the Black Stars have organisational problems.
But, as ever, the Fenerbahce player tries hard to play down his importance to the team.
We have to approach the Zimbabwe game like we did against Nigeria and Senegal
"The coach is a building a team, so there's no problem because if I'm not there, someone else will play in my position," Appiah said.
"But for sure we're going to miss Laryea because he is a good player and has been helping me a lot in midfield."
Mindful of Kingston's role in the team in the absence of Michael Essien, Sulley Muntari and Asamoah Gyan, Appiah told BBC Sport that the four-game suspension was hard to swallow.
"I have seen the red card again on television and I don't think he deserved to be sent off because he didn't do anything to their player.
"Everyone is playing very well but it's easy to see the difference between Laryea and the others. His absence will cost us a lot."
Victory over Zimbabwe would put Ghana into the quarter-finals - even a draw would give them the runners-up spot should Nigeria beat Senegal in the other fixture.
But even though the Warriors are the sacrificial lambs in Group D, Appiah believes Ghana still have a formidable task on their hands.
"We have to approach the Zimbabwe game like we did against Nigeria and Senegal," he said.
"We must be totally focused on winning because if we underrate them, they may cause a surprise."