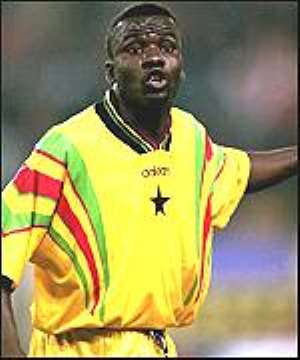 Black Star's defensive Trojan, Samuel Osei Kuffour, has attributed the team's 0-1 loss to Nigeria's Super Eagles in Monday's Africa Nations Cup tie to their failure to play to instructions.
"We lost because we disobeyed our coach's instructions!
"Everyone could see we had a nice game. It's rather unfortunate that we lost the game. The result could have gone either side.
"We had two scoring opportunities towards the end but we failed to take them.
"Nigeria had a not-too-clear chance and they scored, but I think we paid for our carelessness. We lost concentration towards the end of the match.
"Our coach had instructed us to always station somebody in front of the ball whenever Nigeria had free-kick. We didn't do that in the dying minutes and we paid.
"But all is not lost because we still have two games against Senegal and Zimbabwe. If we win those games we'll go through."
Though Kuffour would admit that the absence of Chelsea of England star was felt by the Black Stars, the AS Roma of Italy player believes Ghana did well against Nigeria on Monday.
"Of course we missed Essien, but I think we still played well in his absence.
"It would have been nice for him to be here. May be the result would have been different.
"But life goes on. Hopefully, he'll be with us for the World Cup."