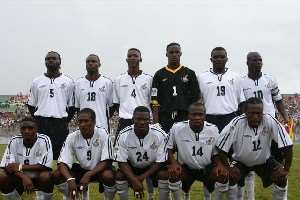 Injuries to key players have come as a hammer blow to Ghana's hopes of continuing their winning form at the CAF African Cup of Nations finals. Ghana enjoyed a momentous 2005, culminating in glory last October when, after four decades of disappointment, they finally qualified for their first FIFA World Cup™ finals.
But injuries have blighted their chances of enjoying more success in the African finals in Egypt. The Black Stars have won the Nations Cup finals four times previously and a fifth title would be within their grasp with a fully fit side.
But injuries in recent weeks to Chelsea's Michael Essien and the Udinese midfielder Sulley Ali Muntari have taken the heart out of a midfield trio that has been the catalyst for Ghana's recent success.
Adding to coach Ratomir Dujkovic's woes has been the injury at the team's training camp in Tunisia which has left the Italian-based striker Asamoah Gyan sidelined as well.
Ghana's hopes now rest squarely on captain Stephen Appiah, who was their midfield general during the qualifiers and played a vital role in helping them to the FIFA World Cup. But whether the former Juventus player is as effective without the support of Essien and Muntari remains to be seen.
Ghana remain light in attack where the new Borussia Dortmund signing Mathew Amoah has already had an exhaustive schedule shuttling between Ghana's preparations in north Africa and his new club's winter training camp in Turkey.
Amoah's goals in 2005 were also key to Ghana's finishing top of their qualifying group. The Black Stars, whose last Nations Cup success came in 1982 in Libya, kick off the tournament against neighbouring rivals Nigeria in Port Said on 23 January. Senegal and Zimbabwe are also in the same opening round group.
It is the 14th trip to the finals for Ghana, who surprisingly missed the last edition in Tunisia after being knocked out in the qualifying by minnows Rwanda.