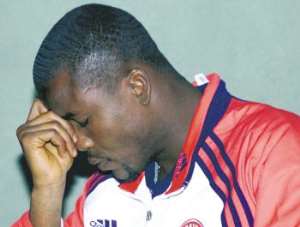 Ghana's central defender Samuel Osei Kuffour may not be in the stars line-up when they take on the Super Eagles of Nigeria on Monday as a result of shoulder injury.
Ratomir Dujkovic the head coach of the Ghana Black Stars disclosed this to Space Fm in Sunyani on Friday just after the stars defeat to Ismaili club of Egypt from his Port Said base.
According to Duja the AS Roma defender started complaining about the injury on Thursday and he fears the experienced Kuffour may not recover before Monday's Heavyweight Soccer encounter with the Super Eagles of Nigeria.
.
Asked of his impression about the defeat to Ismaili, Dujkovic said the result was bad. He said most of the players did not play to his satisfaction." Okay Baba Armando, Issah,
Edusei played very well but the rest of the squad did not play well as usual he said"
However, the Serbian trainer believes things will change in a competitive match.
Explaining why he did not use the regular first eleven for the match this is what he said "The Super Eagles were around and we cannot show them all our powers.Also I want to have a solid bench and wanted to use the match to assess some particular players".
On the Ghana-Nigeria match on Monday, Dujkovic conceded that the Super Eagles are a strong side but that notwithstanding he is confident the boys can rise to the occasion. He emphasized on the commitment of the players as his triumph- card.
Meanwhile, Stephen Appiah who left his colleagues to travel to Turkey for a crucial match for his Club Fernabache returned to camp last night unscathed and trained with the Team this morning.