Ghanaian Students Embrace 'Schools Sanitation And Sports' Programme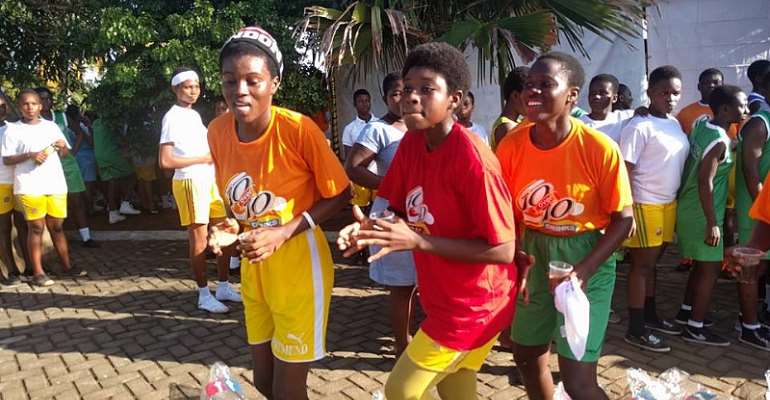 Almost all senior high schools in Ghana have embraced the 'Sanitation & Sports' programme initiated by Emmanuel Olla Williams of Dreamland Sports Plus and One on One Foundation.
The programme has been going on in the schools to promote hygiene, fitness and wellness.
Emmanuel Olla Williams said he is very grateful to Camel antiseptic, Nunu Milk, Cool breeze, Dr. Mighty, Qualiplast and BIC for putting smiles on the faces of students in Ghana.
He noted that without these sponsors it would not be possible to organize the concept which has taken him to many schools in Ghana.
According to Williams, who is also Youth Programmes Coordinator of the Ghana Olympic Committee (GOC), the students learn through having fun, and they compete in cleanness, sanitation aerobic, fruit salad and mashed kenkey competition and do an inter houses power point presentation on waste disposal. Awards are presented to best (neatest) students and best (neatest) houses.
What also makes the concept interesting is that it is on social media where many people see, contribute, like and share.
This year the programme has been to the Ashanti, Brong Ahafo and Volta regions.
A couple of weeks ago they were in Eastern and hope to move to the West and Central regions.
Meanwhile, the Women Sports Association of Ghana (WOSPAG) have also commended the organisers and called on them to add traditional sports like Ampe for the girls.
President of WOSPAG, Madam Joyce Mahama has hailed the 'Schools Sanitation Programme' as very positive and inspiring.
She commended the sponsors and called on other companies to join as the present students are the future leaders and they must be supported to become very neat, creative, intelligent and well behaved citizens.