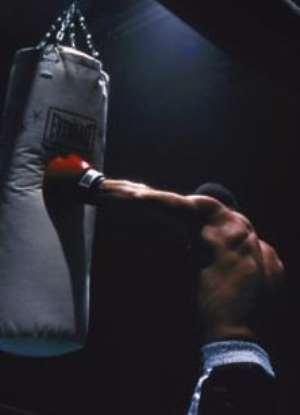 Two Ghanaian prize fighters, Brimah Kamoko (Bukom Banku) and Joshua Clottey have extended a long-standing friction between them into a nasty public brawl at the Black Panthers Gym in Accra.
The unfortunate incident, reportedly watched by a large crowd of people, happened last weekend with both antagonists sustaining some bruises.
Narrating his side of the incident to the Graphic Sports, Bukom Banku said after he heard Joshua say on a radio programme that apart from him (Joshua) no other Ghanaian boxer could become a world champion, "I called him to ask why he made that statement and we ended up exchanging insults".
Bukom Banku claimed that on January 9 Joshua, Emmanuel and two others whom he identified as Allottey, Tsiabot and a machoman called Darko, a.k.a, Satan, accosted and attacked him and his trainer, Carl Lokko, at Sempe, off the High Street in Accra.
He also made available to the Graphic Sports, his black, white and green stripped polo shirt which got torn in the process. "Emmanuel Clottey slapped my trainer," he alleged.
Bukom Banku further narrated that last Friday he was having a video shot with TV3 at the Black Panthers Gym when Joshua Clottey and Darko, entered the premises and moved towards his trainer, Carl Lokko, to beat him up for reporting his elder brother, Emmanuel, to the Jamestown Police.
"I confronted him, he pushed me and I pushed him back. He punched my mouth first and I replied by punching his left eye," he narrated.
According to the ABU light heavyweight champion, Ossie Duran, Osumanu Akaba, the TV3 crew and other boxers were present when the incident occurred. "They envy my achievements in the sport, that's why all this is happening," he claimed.
Joshua Clottey in a separate interview told the Graphic Sports that on January 9 he and his brother Emmanuel decided to confront Banku to explain why he insulted him on the phone and was subjecting them to ridicule on radio.
"It was when we met him together with Carl Lokko in Accra that we confronted him. There was an exchange of words. Banku claimed my brother slapped him but I did not see it," he said.
After this incident, Carl Lokko reported Emmanuel Clottey to the Jamestown Police Station for slapping him. About the incident at the Black Panthers Gym, Joshua said he only went there to ask Carl Lokko for a possible withdrawal of the case from the Police Station for a peaceful settlement.
"Bukom Banku emerged from the side and pushed me. I pushed him back and he punched my left eye after which he held on to my organs. We clinched and were only separated by those at the scene", he said.
Joshua Clottey told the Graphic Sports that if he had known that Bukom Banku was at the Gym, he would not have gone there.
Bukom Banku revealed that he and the Clottey brothers were good friends until Emmanuel Clottey made a statement on the Sports Beat programme on GTV on April 2 last year, to suggest that he won the ABU light heavyweight title against Michael Gbenga because he was fighting at home.
This was not received well by Bukom Banku who retaliated by ridiculing the Clottey brothers on radio in one of his humorous philosophical sayings.
His voice over is played regularly on a sports programme of a Tema-based radio station."I want the radio station to stop playing Bukom Banku's voice over in which he insults us and our mother because he is not only embarrassing us, but disrespecting our mother," Joshua Clottey said.
The aftermath of this was what degenerated into fights outside the ring.