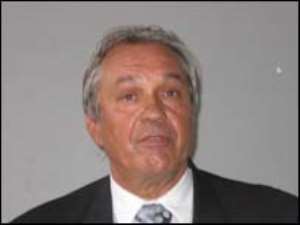 ... says Ghana may struggle Coach Ratomir Dujkovic has all but written off his team's chances of winning a fifth African Cup of Nations.
The Black Stars start their Nations Cup campaign against Nigeria on Monday.
Dujkovic told BBC Sport injuries to Michael Essien, Sulley Muntari and Asamoah Gyan has left him with little room to manoeuvre in Group D.
"We're in a tough group and we don't have options, so it'll be very difficult to win this trophy because of the three injured players," he said.
"I feel big pressure on me for this competition, everyone's pressing me to win this competition and I think it's not fair."
The Black Stars are in the so-called group of death, where as well as Nigeria they face Senegal and Zimbabwe.
"For us the World Cup is of course more important. I wanted to use other players for this tournament to give them a chance to show their capacity to play for the Black Stars," Dujkovic said.
"But I had to call our best guys because of the pressure from the fans. Now with these injuries I'm in trouble because I cannot promise anything to Ghanaians.
"They would like to be the first country to win this important trophy for the fifth time but they forget what happened before I came.
"They're pressing me, I don't like to work this way. We will do our best, we will try our best to win the trophy with the group that we have.
"Fifteen or twenty days ago we were candidates for this trophy but now we're not because of the injuries and we have to accept this,¿ said the man who took Rwanda to the last Nations Cup in Tunisia.