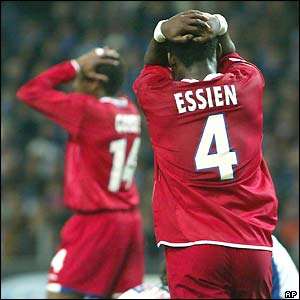 Reports reaching CITI SPORTS indicate that the Ministry of Education and Sports has impressed on the Head Coach of the Black Stars Ratomir Dujkovic to include Chelsea's midfielder Michael Essien in his squad for the Nations Cup competition.
With the Nations Cup three days away, the Head Coach has already submitted his 23-man squad which excludes Michael Essien, Sulley Ali Muntari and Asamoah Gyan due to injuries, but with the abysmal performance by the team yesterday in their last friendly game against defending African Champions Tunisia, sources close to the Ministry of Education and Sports has indicated that government has requested the Coach to include Essien and Muntari in order to avoid a first round exit by the Black Stars during the Nations Cup competition.
Chelsea officially notified Ratomir Dujkovic that Essien will not be available due to an injury even though the player has started preliminary trainin! g with the Stamford Bridge side since he got injured in a game against West Ham United. With the latest development from the Education and Sports Ministry, the issue is whether the action from the Ministry will see the light of day.
Article 26(2) of the CAF Regulations stipulates that; '10! days before the opening match of the tournament, a list of a maximum of 23 players with three goalkeepers shall be submitted to CAF.
Violation of this stipulation is subject to a fine of three thousand dollars, If within 7 days, the list is not submitted, a fine of three thousand dollars plus a right to register only 21 players shall be imposed on the country in question.
No changes can be done to the 23 man list unless in the case of force majeure recognised as such by the organising committee'.