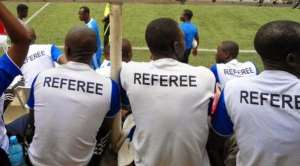 The Referees Association of Ghana [RAG] has suspended its strike over unpaid allowances, following a fruitful meeting with the Minister of Youth and Sports, Isaac Asiamah.
Referees suspended their services on Monday after the Normalization Committee failed to pay them their allowance.
The action put the midweek matches of the NC Special Competition in limbo but the latest development means all games will come off as scheduled.
However, the Normalisation Committee released a statement in response to the strike action, where they claimed their inability to pay the referees was as a result of the Sports Ministry's failure to settle the second tranche of its sponsorship money for the competition.
Sports Minister Isaac Asiamah subsequently met the leadership of RAG in his office and both parties have found a resolution to the impasse.
The Public Relations Officer of the Sports Ministry, Elvis Adjei Baah in an interview with Citi Sports, said, "As a ministry, we just couldn't look on and allow this impasse to fester. As you know, by June, Ghana needs to present its representatives to the CAF Inter-club competitions and this would have interrupted the calendar.
"The minister called them into the meeting and they left with the resolve that they would continue to officiate the games. This means that the meeting was fruitful and the referees came out satisfied with the outcome of proceedings," Adjei Baah added.
Below is the full statement released by MoYS