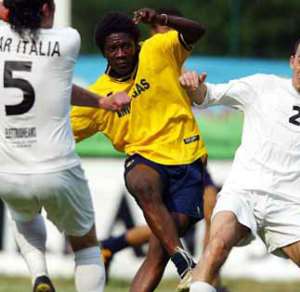 Accra, Jan 9, GNA - Asamaoh Gyan, Black Stars injured striker has been flown to Italy to enable him to undergo treatment for right knee medial menisci tear suffered last week. The 22-year old Modena striker left the Stars camp in Tunis on Friday for Italy, where he would be expected to stay under the guidance of the Club's doctors in search for recovery. Gyan tore medial menisci of his right knee at training on Thursday and have been ruled out of the Africa's most glamorous soccer piece where he would have been making his debut. Dr Martin Engmann, the Black Stars Doctor, told the GNA Sports from Tunis that such injuries required surgery to either repair or remove the meniscus. A decision not to undergo the surgery was undesirable for a young player, he said. "Surgery or not, period of healing and rehabilitation usually exceeds two weeks before one could begin progressive training." Information pieced together by GNA Sports indicate that, after discussions and consultations with his Club Doctor, Stars Serbian Trainer Ratomir Djukovic and the technical team, it was decided that Gyan received treatment in Italy. Dr. Engmann has earlier declared that Gyan would be outpaced in his race with time.
Ghana's preparation towards the tourney pencilled for Egypt later in the month was dealt a big blow last Thursday when the leading striker limped off at training, raising the number of influential casualties to three. Chelsea's Michael Essien, Sulley Ali Muntari of Udinese are the other casualties expected to miss the Ghanaians' quest to annex the trophy for the fifth time. While Gyan, one of the team's highest scorers in both the World Cup and Nations Cup qualifiers picked the injury in the Stars' camp; the two others suffered the calamity while on duty with their clubs. Coach Djukovic had earlier been forced to invite two of his stand by players, Baba Adamu Amando and Louis Agyeman as replacement for Essien and Muntari.
The trio, are influential members of the team that is housed alongside Nigeria, Senegal and Zimbabwe at the initial stages of the tournament. The injuries are considered as a huge set back to the Serbian's tactics ahead of the tourney, which would see both Cameroon and host Egypt all yearning for a fifth victory. It remains unclear who would be replacing Gyan, who pundits have tipped to cause the desired trouble to opponents. The Udinese left footer, Muntari would have also been making a nations' cup debut.