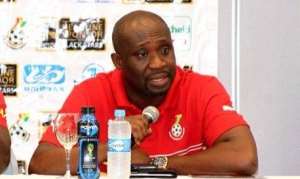 Ghana Football Association (GFA) Presidential hopeful, Mr George Afriyie has revealed that he will change the image of the association once he is elected as President.
The Former Vice President of the GFA is one of many who has declared their intention to stand for the presidential elections when the Normalization Committee puts the required measures in place.
Speaking in an interview with Oman FM on Thursday, May 2, 2019, George Afriyie stressed that his main focus area, when elected as President, will be to change the tarnished image of the football association.
According to the Bankroller of Okyeman Planners, the image of the FA has been damaged over the years and it will be prudent to change the perception people have in order to attract sponsors and bring back confidence in the FA.
"The first thing is to change the image of the Football Association. Our image out there is daunted. If we change the image, if we want to improve infrastructure, get sponsorship all those things will happen when the image is good out. I will like to restore confidence and a good image out there", he said.
He further shared that he will ensure the integrity of the football association is restored. He insists that the image and integrity of the FA are two key things he will work on when elected to lead the association.
In addition, the former GFA vice has set his sight on the development of football from the grassroots. He is of the view that if we do not get it right from the grassroots there is no way we can guarantee a good future for Ghana football.
The Normalization Committee is expected to draw a road map for the election of the GFA President before they leave office. George Afriyie has been tipped as one of the favorites to come out on top when the elections come around.