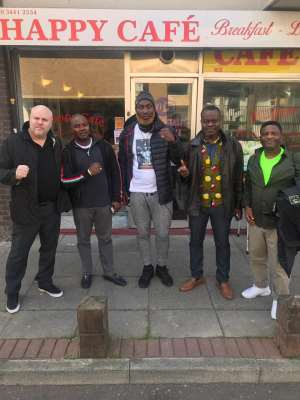 Richard Nii Lartey Harrison had a chance to be the first Ghanaian boxer to win a WBO Global Title but lost by a round 4 KO to UK's Daniel Dubois aka The Dynamite last Saturday at Wembley.
Some boxing experts believe if Harrison Lartey had been in the United Kingdom earlier (say 2 weeks) to prepare for the fight, he could have won.
Richard Harrison left Ghana Friday night and landed in UK on Saturday morning. He fought on Saturday night after the press conference and et el so you can imagine the stress and tiredness before the fight night.
Even though he lost to Daniel Dubois, he's still number 15 on the WBO World Heavyweight rankings and still the WBO Africa Heavyweight Champion.
We wish you well in your next fight champ.
Picture shows Richard Lartey (centre) with his management (Cabic Promotions) in Islington, London.