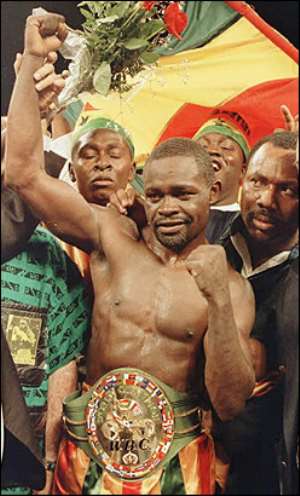 Born Nelson Azumah in Accra, Ghana, on September 19th 1958, Azumah Nelson, as the world would know him, would become arguable the finest Black African fighter boxing has ever seen as well as being one the finest 'rematch' fighters ever.
Nelson Azumah had a busy amateur year in 1978, he competed in the African Championship, as well as the World Military Championship, but his year peaked, when he won Gold in the Commonwealth Games in Edmonton, Canada.
After competing in a World Cup tournament in New York, Azumah, returned to Ghana, where he began his pro career.
Reversing his given name, to Azumah Nelson, and with a claimed 50-2 amateur record, Nelson defeated Billy Kwame over eight rounds in December 1979, on his pro debut.
Nelson won the Ghanaian Featherweight title in his third pro fight, and in his tenth won the Commonwealth 126lbs crown from Aussie Brian Roberts. In the meantime, Nelson made his American debut, beating Miguel Ruiz (TKO3) in California in August 1981.
In February 1982, he beat the respected Charm Chiteule, (TKO10) in Chiteule's home City of Lusaka, Zambia. This victory gave him a ranking in the WBC's top10.
And so it was in July 1982, brought in as a late sub, Nelson, in his 14th bout, met the excellent Salvador Sanchez in Madison Square Garden, in what would be Sanchez final fight, as he would die in a road accident in August of 1982.
Sanchez was a massive favourite over the unknown Nelson, but Azumah gave everything he could, and after 14 rounds, one judge actually had Nelson winning the fight, but Sanchez showed his class and stopped Azumah in the 15th and final round.
Nelson had lost, but he would never get stopped again, and he was no longer an unknown, he would be a massive player in the Featherweight division.
Azumah based himself in the USA for the next two years, racking up a half dozen wins, the only bout outside States being a defence of his Commonwealth Title, in Nigeria.
Nelson was given the opportunity in December 1984, to once again challenge for the WBC Featherweight Crown, against the superb Wilfred Gomez.
Gomez had a 41-1-1 record, and like Nelson, his only defeat was to Sanchez. Gomez was a lot more experienced though, having been unbeaten as a WBC champ at 122lbs, and now having beaten the teat tough Juan LaPorte, to win the 126lbs crown. Added to the fact that the fight was in Gomez's home country of Puerto Rico, Nelson was once again an underdog.
But Nelson rose to the occasion, and brutalized Gomez, and winning the bout and the belt, by eleventh round stoppage.
A five round beating of Juvenal Ordenes was his first defence, in September 1985, followed by the annihilation in under 90 seconds of the respected Brummie Pat Cowdell, at the NEC the following month. This seemed to pave the way for a unification match with WBA Champ, Barry McGuigan, but it was not ever to be, these two Commonwealth Champs from 78, and Featherweight World Title holders, would never meet in the pro ring.
Nelson had a tough fight, with the iron chinned Marcos Villasana, in early 86 winning a tough majority 12 round decision, following this up two easy defences, before first showing his great ability in rematches by comfortably out boxing Villasana in August 1987.
Another tough Mexican, Mario Martinez, would give Nelson a scare next in 1988, when Nelson moved up to 130 to challenge Martinez for the vacant WBC crown, Nelson won a razor thin Split decision.
In December of that year, Nelson made his only defence of a World Title in his homeland, when he destroyed Brazilian Sydney Del Rovere in three.
Nelson now started fighting for Don King, and made an appearance on the undercard of Bruno/TysonI, winning a rematch over Martinez, by way of TKO12. Nelson went back to Britain to beat the brave Jim McDonnell in November 1989, again by way of twelve round stoppage, before stepping up to fight the Awesome Lightweight King Pernell Whitaker. Whitaker was at the top of his game, and out pointed Nelson over 12 rounds.
Nelson came back down to fight at 130, beating Juan LaPorte, before fighting the Brilliant unbeaten Aussie Jeff Fenech in June 91. Fenech gave it his all, and had Nelson on his back foot for the entire 12 rounds, the decision seemed like a formality, but disgracefully Fenech was robbed, and Nelson kept his title, by way of a draw.
A March 1992 rematch was set up, this time in Australia, Nelson was coming up for 34, and most expected Fenech to easily beat the Professor…. once again. But the Aussie fans were in for a shock as Nelson turned back the years to dismantle Fenech in eight.
A victory over the young starlet Gabriel Rueles seemed to imply that Nelson still had a lot to offer, but in his September 93 bout against the unbeaten Jesse James Leija, Nelson struggled to a draw. A rematch was set, and everyone knows what happens when Azumah has a rematch… But this time the magic failed him, and Leija became the first person to officially beat him at 130lbs, by way of easy 12 round decision.
Nelson went into semi-retirement, and in the meantime Rueles had taken Leija's crown from him, and so in December 95, 18 months since the Leija defeat, Nelson challenged Rueles for his old crown. Showing his old magic, Nelson won the Rueles rematch in five, once again winning the 130lbs WBC crown.
A third fight with Leija was set up, and Nelson dispatched him in six, before in March 97, he lost a split (should of been unanimous) decision to Genaro Hernandez. Nelson came back one more time, dropping a 12 round decision in fight four, with Leija in July 1998, when Azumah was two months shy of his 40th Birthday.
I think you would agree, Nelson had a truly phenomenal career...