On the night of Saturday, February 2, 2019, at the Ford Center the Star when Richard Commey scored a round 2 TKO on his Russian opponent Isa Chaniev, many were those who believed that the Ghanaian was at his very best but his head trainer believes otherwise.
Commey, who was previously under the tutelage of Carl Lokko, changed corners for Andre Rozier in his bout with Alejandro Luna on March 10, 2018, which ended in a 6th round TKO for Commey. And from there he has never looked back.
Three bouts after this new marriage with Andre Rozier have ended in TKOs with both Yardley Cruz and Chaniev all being stopped in the second round of their respective fights with the new IBF Lightweight king.
Commey's TKO exploits under Rozier may not come as a surprise since he had shown in his previous 27 bouts before their association that he was a KO expert but rather his ring generalship is what has got better and people talking.
Commey tells Kasapa Sports that his reason for moving to America has paid off and his association with Rozier is the reason he has landed the IBF title. According to him, Rozier and his team have done a tremendous job on him and the results are there for all to see.
Surprisingly the man credited with the Title by Commey, Rozier is quite modest in his assertion on how his relationship with Commey has been mutually beneficial.
"I feel wonderful, I feel blessed in fact; Commey is like a nephew to me and it's been wonderful working with him," he stated.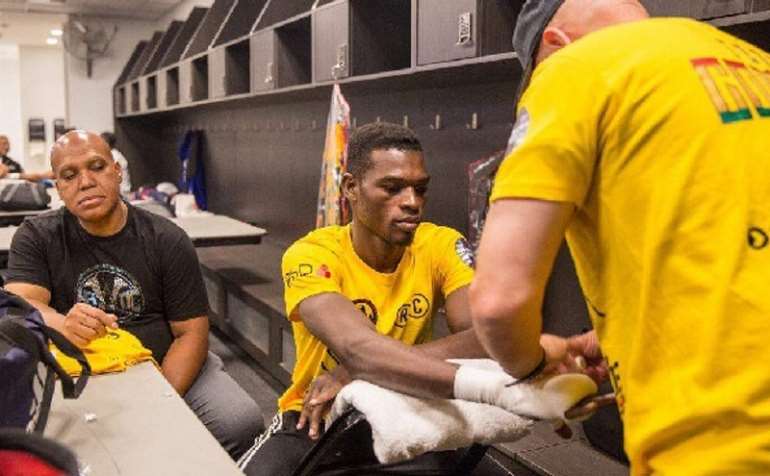 File: Rozier (far left) supervising Commey at training
Andre Rozier, however, gave an insight into where Commey was when he first met him and what he has done to transform him.
"Well, when Richard came to me he will do things like back up to the rope; he will drop his hands; he will lift his chin up in the air. He wasn't making lateral moves.
"Under my tutelage and [that of] my team, he's made some magnificent strides and as you can see from the Chaniev fight he is following through with his punches, becoming more aggressive and this is not the best of Richard yet, the best is yet to come," he revealed.
The American trainer believes Commey is at the level of his peers but he still needs to sharpen some rough edges to get him to near perfection and that in the next two years, Commey will be a pound for pound favourite of the world.
"He [Commey] is ready but I am not ready for him to be ready for everyone and anyone in the division because we still have things to learn. I want him to be as near perfection as possible and once we get there, the entire world will be excited by Richard.
"In the next two years he will be a pound for pound favourite", he stressed.
Richard Commey is still awaiting the confirmation of the date and opponent of his next bout.