Bok Nam Kim in a memorable fashion delivered the January Monthly medal by bringing together lovers of golf in an atmosphere enveloped with friendliness and excitement.
The event ended with a flurry of results and a smashing cake-cutting moment with a well-crafted miniature golf cake. Dr. Felix Frempong led in the cake-cutting ceremony to climax the January Monthly Medal.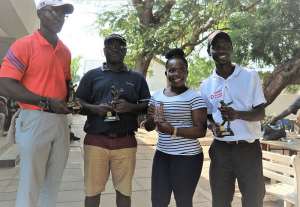 When it mattered most, Solomon Allotey took charge of the Men Group A with an impressive string of pars and outstanding shots to emerge the winner.
Solomon carded a net score of 63 off handicap 15 to take home a superb trophy after edging Alex Abrokwah into second place.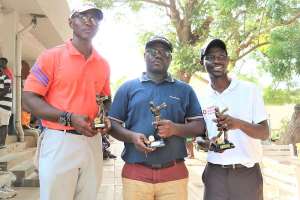 Alex ended the day on a net score of 64 playing off handicap 16.
Alex Ankamah however, followed in the third place after recording same net score of 64 off handicap16 but was separated on countback.
In the Men Group B, Ethan L. Butt delivered a can't-wait-to continue and jaw-dropping net score of 56 of handicap 21 to vault into the first position.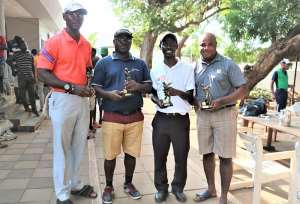 Ethan confronted the fairway and mesmerized the greens for a smooth 39 on the front nine and even smoother 38 on the back nine.
V. Backusten Klaus scored a net score of 64 off 26 to secure the second spot while Samuel Appiah returned a net score of 66 off 20 for the third-place finish.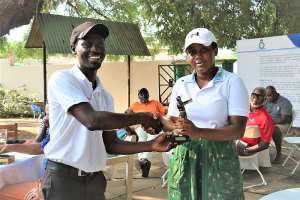 Meanwhile, Aku Dovlo maintained her poise for a steady and reassuring lead in the Ladies Group. Aku was a pleasant delight on both the front and back nine when she finished off at a net score of 60 off handicap 19.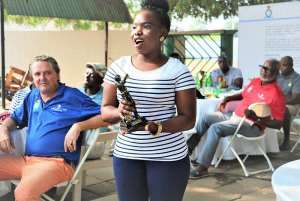 Belinda Kumako came in the second place on a net score of 63 off handicap 32.
There was a truckload of positive feedback and energy from the event. Most participants expressed delight at the thrilling turn out of the event.
Winners were presented with sleek trophies as prizes.